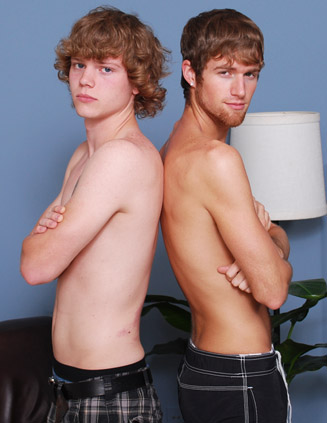 Many of you in BSB land like when our vids start with introductory chitchat. Expect to be
disappointed in today's update with Max and Blake. Instead of confabulation there is smooching.
Isn't that a good trade?

It adds up these two start right in. This is their second time on screen together. In their first scene,
Blake taught Max what it takes to make a dude contented (smile).

The boys continue the romantic route with lip locking; Blake's hand runs through Max's locks. If
you aren't turned on by this passion, you more than likely have erotic dreams about Rick
Santorum. :-) As the two kiss, their joints strain to be let free. This eventually happens, and Blake
licks first.

"Oh, fuck," Max moans as his scene partner suctions his meat.

The sounds of Blake's work echo in the room. He alternates between sucking and jerking Max, who
is literally in heaven.

Blake comes up from his duties, gives Max a kiss, and leans back. Max gets to work, going down to
the balls. Blake's mouth is open, like he's surprised at the quality of the blow job (grin).

"Oh, fuck yeah," Blake whispers as he bites his lower lip.

Blake grabs the back of Max's head and face fucks him. Max takes it all. Doesn't flinch or gag.

There's another kiss before Blake positions himself on the edge of the bed. He looks around as Max
pulls a condom on. Our top aims for the Blake hole and slowly enters. When he's balls deep, Max
pulls out and heads back home.

"Oh, shit. Oh, fuck," Blake utters as the pace picks up.

He reaches for the sheets as he gets fucked. As Max tries to go deeper, Blake bites the fabric.

"Oh, yeah," Blake moans.

This might be Blake's second time getting ridden, but he knows the first rule: don't ask for mercy.
He looks so hot as his face alternates from amazing pleasure to numbing pain.

The bed starts to squeak. A sign someone's hole is being stuffed the way it should. Blake changes
positions, this time pointing his feet toward the ceiling. Max puts his hands on the back of Blake's
knees and slow fucks him.

"Oh, fuck yeah," Blake moans. "That feels good."

Max strokes Blake as he prods his prostate.

"Oh, shit. I'm going to cum," Blake announces. "Oh, fuck. Pound me. Real fucking hard dude."

Blake's load splatters on his stomach hair, making it wet and sticky. Max pulls out, and strokes his
nut. His cum is added to Blake's, and Blake's tummy hair gets more wet and sticky!

Blake pulls Max to him and the two kiss. An appropriate response after man nectar has been
fucked out of you!