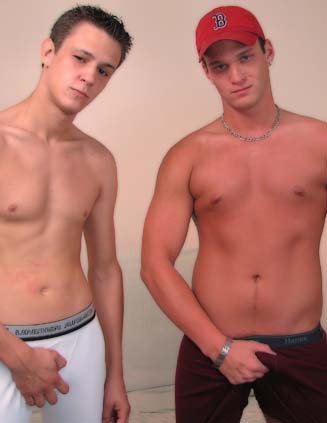 In putting together a shoot for Broke Straight Boys I decided to go with Jason, because he happened to be fairly new with us still. He has done only a couple of shoots, and bottomed in one of them. I knew that Dustin was looking to do some more work, but in order for that to happen I needed a bottom. We arranged a day and time for them to drop by the studio for a shoot. Dustin was in a very joking mood when he arrived, and so it was hard to get him to move over to the couch and zip his mouth for a minute. Finally, when the two of them took a seat, I started the camera. Starting with reminding everyone what Jason has done with us so far. Then, I talked about Dustin and some of the parties that we have dragged him to around the country to some of the local gay bars. When we got back to the shoot and what I wanted to happen. The plan was for Jason to get fucked, and I was planning on paying him more for it, because of the discomfort. However, Dustin was having issues with him making more money than him. We settled the payment for the work, and then got started.

The boys stood up to strip off out of their clothes, and as the shirts came off I asked Jason if he spent a lot of time in the gym. He said that he likes to work out, and gets in when he can. As for Dustin, the slacker quit the baseball team, and I think has only been working out occasionally due to all the fucking around he has been doing. Sitting there on the couch in their underwear, I asked Dustin to tell us the story about him fucking a girl last week. I guess they were going at it in his car, and when he came all over himself he wiped it up with his shirt. A couple days later when a buddy got in his car, he noticed the smell and got grossed out. It appeared that both of them were hard, so I told them to strip down out of their underwear. Sure enough their hard cocks were bouncing around, and I let out that I thought that Jason had learned how to suck cock pretty well. He kind of gave me a look, and I told him to go ahead and start with Dustin. He positioned himself facing Dustin, and took a hold of the dick.

Watching Dustin get that blow job from Jason was hot. Jason was whipping his head around, up and down, and using a whole bunch of different techniques. I told them that I wanted them to fuck, and Dustin stood up in front of the camera to put the condom on. Jason sat there for a moment just starring at the cock that was about to be going into his ass. I finally got him to get the couch into a bed, and we debated about which position they were going to start in. He didn't want to freak out again with a guy being very powerful. So, we decided that Dustin would lay down and he would ride it. Climbing into position he slowly worked on sitting completely down. Once the cock was all the way in his ass he started to bounce up and down. With Jason's dick and balls flapping around I couldn't really see if Dustin was fucking him. I had him lift everything up, and I could really watch the fucking with a clear view.

After Jason seemed a little relaxed as he could be with a dick in his ass for a second time, Dustin asked him if they could switch up position. Dustin had him get on his back with his legs up in the air. Once he got his dick deep in Jason's tight ass, , he started to pull in and out to get some motion happening. Jason wasn't sure about the feeling and started to resist pushing on Dustin's leg. That only got Dustin more turned on, and he started to move faster. Then, he rolled Jason more up into a ball to get his ass in the air and pound on that ass. After a while, Dustin pulled out and threw Jason's legs to the side forcing him to roll over onto his stomach.. Dustin pushed his way in there, and was fucking Jason so hard that he started to/fall off the bed. However, Dustin wasn't going to stop, he just kept going and pull him back on his cock harder. At one point when I moved in towards Dustin for a close up he spread Jason's ass-cheeks apart for me.

Getting close to cumming Dustin pulled out and flipped Jason over. The two of them jerked off using some lube to get closer to cumming. Dustin came shooting his load on Jason's balls and upper thigh, and it was a few seconds later that Jason came himself on his stomach. Looking up at Dustin his whole body was sweating from such a workout and they both looked beat. Without waiting for me to say okay, Dustin jumped up and headed to the shower, and Jason was soon to follow. It was a hot and sweaty shoot, so stay tuned to see what we bring you next.