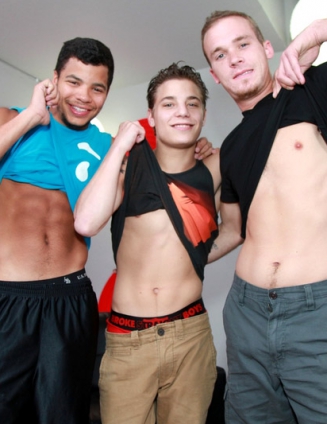 Tyler White, Romeo James, and Kaden Alexander are horny as fuck and ready to take a dick (or two) for some cash! Tyler, being the aggressive stud that he is, pulls the other two boys toward him and gets the fuck fest going, doing his signature move of licking Romeo and Kaden's armpit and pulling on their hair before the cock-sucking starts.
Kaden stands on the chair while Tyler gives him head, and Romeo is at the bottom of this cock-sucking chain getting Tyler's cock wet and hard while he works it with his hot mouth. But Romeo's looking to get his dick wet and these three sexy boys move things to the bed, where Kaden kisses up and down Tyler's legs, sucking on his toes before working back up to that waiting cock. Meanwhile, Romeo is getting head from Tyler, who isn't afraid to get messy and spit all over that big prick.
When things heat up, Kaden is the first one to take it up the ass, bottoming for Tyler while he sucks on Romeo's meat, but it's not long before Romeo is getting his tight ass pounded by Tyler as he gives Kaden head. Tyler fucks Romeo hard and bareback, making that ass bounce as he spanks him, giving obedient Romeo all sorts of commands as he takes a cock from both ends. He isn't done bottoming yet, Kaden wants his turn at that ass and fucks him raw while Romeo wraps his mouth around Tyler's prick. All this fucking and sucking is too much and these three boys bust a nut all over their cumslut Romeo.