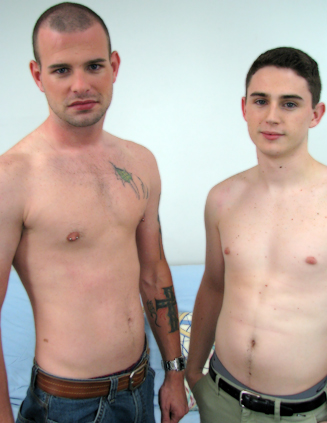 Broke Straight Boys is pleased to welcome back Aiden, one of the original models. Despite doing some work with other studios, Aiden hasn't been in ours for around 5 years and today, I've paired him up with Tyler for an oral scene. Just to refresh everyone's memory, Aiden is the stereotypical tall, dark and handsome and looks like the actor Scott Foley. As both Aiden and Tyler are normally tops and hadn't worked with each other before, I decided that they should do an oral scene. I asked if they would kiss and while Aiden was all for it while Tyler wasn't too sure. As we decided on $600 for the scene, the conversation turned to Aiden's tattoos, especially the one he got to cover up a particularly controversial one. Tyler and Aiden stripped off as Aiden pointed out a new tattoo on his chest and nipple rings. Sitting on the futon, clad only in their underwear, the boys went to work on their cocks as they watched the straight porn, laughing at how awful it was.

Both boys took off their boxers, Aiden throwing his at the camera only to break up laughing when they landed right on top of it. Aiden and Tyler had their cocks in hand, stroking the shafts as they worked on getting hard. Since Aiden volunteered for Tyler to go first at sucking dick, Tyler grasped Aiden's balls firmly in one hand as he leaned over and swallowed down Aiden's huge dick. It was clear that Tyler had great cock sucking skills as Aiden's dick stood to attention almost immediately. As Tyler wanked his own cock, Aiden got a little aggressive with him pushing on the back of Tyler's head, forcing Tyler to go deep.

Now it was Aiden's turn to service Tyler so Aiden slowly slid the hard cock between his lips and started bobbing up and down. Tyler was loving the blow job right away, moaning as Aiden put his skills to good use. After a few minutes, Aiden pulled off, and with a strong GI Joe grip, pumped Tyler's dick before going right back down. All the while, Tyler was panting for more even as he was jerking off Aiden. Pulling off again, Aiden sat back for a moment before leaning in close to Tyler, kissing and licking his ear as he worked Tyler's cock with his firm grip. Letting go of Tyler's dick, Aiden grasped Tyler's face and pulled him in close for some passionate kissing. Surprisingly, Tyler who is normally reluctant to kiss, immediately moved in for more pashing when Aiden broke off. It was obvious that Tyler was being swept away by what was happening between himself and Aiden.

As Aiden stated, 'he had a habit of getting what he wanted' and it was clear he very much wanted Tyler. Tyler dived back down on Aiden's stiff dick, his head bobbing up and down as Aiden kneaded Tyler's ass and commented that 'it was a nice ass! Giving Tyler's ass a hearty slap, Aiden made Tyler to keep sucking his cock via a heavy hand on the back of Tyler's head. Tyler had Aiden panting and moaning for more as he pulled out all the tricks. Switching it up, Tyler sat back into the futon while Aiden stood on it and leaned over Tyler while thrusting his cock down his throat. Gripping the back of Tyler's head, Aiden set a fast and hard pace as he thrust in and out of Tyler's mouth, all the while, Tyler jerked himself off. The position was difficult for them both so after a few minutes, Aiden pulled out but quickly leaned down to keep the passion going by kissing Tyler again, both boys pulling at their cocks.

With Aiden sitting next to him on the futon, Tyler grasped Aiden's dick and started jerking him off even as Aiden bent over and deep throated Tyler's hard as a rock cock. All Tyler's gasping was turning Aiden on even more, making him sit up and take control of Tyler again by demanding a bout of heated kissing. Both boys were jerking each other off in hard and furious strokes, Aiden licking and kissing Tyler's nipples as Tyler whimpered in pleasure. Aiden couldn't help himself, he dived in for another few kisses before swallowing Tyler's cock again. Kneeling up, Aiden was panting hard as Tyler set a steady pace as he slid Aiden's cock in and out of his straight boy mouth, all the while, Tyler kept jerking himself off.

Mixing it up, the boys lay down in a 69 position so each of them got the best of both worlds. Aiden couldn't resist kissing down Tyler's body and engaging him in a hot and heavy snogging session before going back down on him. Aiden thrust in and out of Tyler's mouth, a hard grip on his hair but it was clear that both boys were very close to climaxing. As they jerked off, they kissed heatedly, both intent on cumming. Tyler came first, cum spurting almost continuously onto his chest and stomach while Aiden was only a moment behind him, cum splashing over his upper body.

Both boys did a great job and had genuine passion. Hopefully, I can get them back together again sometime very soon!