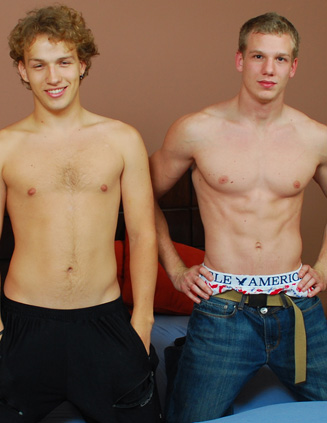 Todays pairing is an early Christmas, Hanukkah, Kwanzaa gift to those in BSB land. Johnny Forza,
the stud from New Jersey, is going to pop Carson Hawks cherry.

I dont like sundaes, the newbie says.

Does anyone really believe Carson doesn't like sundaes? Like him, they are simply scrumptious. :-
)

How are you feeling about getting violated, the cameraman asks Carson.

Im feeling its certainly going to be violating, Carson wittily replies.

You have a nice ass, so I think its going to look really good, the cameraman notes.

Carson is indifferent to bum compliment. Johnny is given some last words of advice about being
gentle at first. Does the Garden State hunk even need suggestions at this point? Hes come a long
way since his first video.

The boys get rid of the clothes (Carson seems to think Johnny is rather slow in shirt removal).
Johnny lies across the bed and Carson puts the Garden State hose in his mouth.

Oh, yeah, Johnny moans.

Carson may not be able to get his head around gay sex, but he knows how to give good head. He
keeps his mouth centered on Johnnys tip as those curls go up and down. Plus, Carson must be
feeling something because his own meat plumps as he slobbers all over Johnnys johnson.

Fuck, yeah. Oh, fuck, Johnny groans.

Carson tugs at those NJ nuts as his mouth keeps working. When he pulls up for air, Johnny gives
the command we've all been waiting for.

Get on all fours, boy, Johnny orders.

Condoms and lube are properly applied. Carson does get on his hands and knees. Such a compliant
lad. :-) Johnny enters once, but Carson moves away. The second time works, and the cameraman
was right. Carsons backside looks sexy as its being pierced. We get an overhead shot of Johnny
pumping away, and its hard not to ogle at the new bottoms milky cheeks and thighs. So bouncy
and perfect.

At first Carson tries for the quiet route, acting as if the tool filling his hole means nothing. But when
his sweet spot gets rammed a few times, he moans. Even bites his lower lip.

Johnny puts Carson on his back, and continues to break the newbie in. Carson strokes his chest and
grabs the sheet. His moans get louder, but they cannot cover the smacking sound his ass makes
when struck by Johnnys thunder thighs.

Johnny is thrusting balls deep, and we get to see Carsons cheeks wiggle from the impact; hes
blissed out. In bottoms nirvana.

Johnny pulls out and strokes a load that lands right on Carsons big ol nuts!

When asked how it went, Carson gives the typical straight boy answer.

I thought it was probably going to be worst, but it wasnt that bad.

The freshly busted scamp suggests an opportunity to have his caboose tapped again. Who should
have the honor?