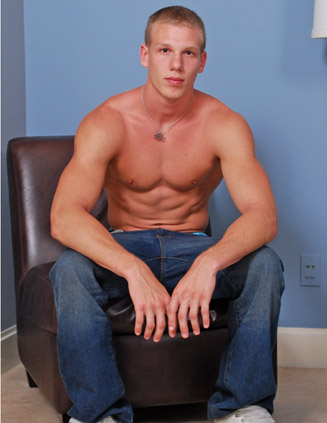 Johnny Forza is a New Jersey boy. Not a a typical bridge and tunnel fellow. Instead the type of
Garden State resident who likes to spend time in the woods and work on trucks.

Although he's only 18, Johnny is here because cash is scarce.

"No job and I got a lot of bills to pay," Johnny says.

Like all Jersey boys, excluding those dudes in the musical (grin), Johnny is slightly weirded out by
what's going to happen today.

"Kinda sketched out but you gotta do what you gotta do."

His girlfriend of 7months thinks he's with family. He's a little worried she might walk out of she
finds out about this escapade. Doubt she will. Not many will kick to the curb a delectable slab of beef
like Johnny. Sculpted chest (he wrestled and played football in high school), muscular arms, and an
extraordinary smile. If she does walk out, how long will the stud be without companionship? Thirty
seconds? Tops? LOL!

Johnny takes off all his clothes and gets hard rather quickly. He's blessed with a hefty dick that can
do the type of damage most dream of. Another reason his girl won't leave him of she finds out. :-)

He might be anxious, but he certainly is into pleasuring himself. His toes curl and he feels himself
up. When he slaps that bloated beef against his stomach, your no-no place will get wet.

He looks at the camera a few times, but he still has a worried look. His johnson is ramrod stiff, so
everything must be all right. When he stands up, there's a great side view of his body. And the
tattoo of a lady on his outer thigh.

A few times it seems like he's ready to bust. His breathing gets real short, and his body tenses up.

When Johnny gets on the bed, he's really sexed up. He's so aching to cum he grabs the headboard.
When was the last time you saw that in a solo? He shows us his butt hole, a glorious sight, but it's
easy to feel sorry for Johnny. Giving a peek of his love tunnel, keeps him two beats away from
popping.

We've never had anyone so into a solo like Johnny. He can barely answer when asked if he's close.
Watch his legs before he shoots. They open and close like a demented pair of scissors.

And his load? Slops all over his mid-section and upper thighs. After he catches his breath, Johnny
maintains this is as far as he'll go. Haven't we have heard that before? LOL.

"No. Not a chance," Johnny insists when told about our payment arrangements for man-on-man
action.

The lad does have good home training though.Thanks BSB for the time and money.

So what do you think? Will Johnny return?