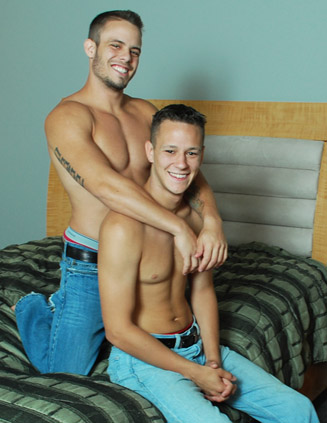 Today BSB offers a Gay Pride treat: studio stalwarts Jason and Denver. You''ll be hard pressed to
find two models who garner as much enthusiasm. Hard not to groove to them. Aside from being
easy on the eyes, both have enough charm to light up a small city.

Jason tells a Long Beach Pride story. Warning: if you ever meet these two, expect be told they are
legal eagles (grin). Seems like Denver earned the affections of a certain Asian lass, who apparently
had no problem with his extracurricular activities. Can you blame her? Name a person who would
kick Denver, or Jason, out of the bedroom? Those who say yes, please find a priest and confess to
fibbing.

The two pros quickly drop the clothes; Jason gets on his knees first, and Denver lies on the bed.

"Getting naked. Going to suck some wee-wee," Denver notes to his scene partner.

Isn't Denver too old to be uttering the phrase "wee-wee" (grin)?

"It's all about the Benjamins, baby," Jason retorts.

Did Jason steal that from a 50-Cent movie (smile)?

No matter where he got it from Jason starts his job with verve, making sure his nose is pressed
against Denver's pubes. The camera zooms around and we get a great shot of Jason's melon and
Denver's expression of joy.

"This one knows what he's a doing. A pro," Denver exclaims.

Jason can only laugh because his mouth is filled with dick. Plus, it's true. He knows exactly what's
he doing. From licking the head, sucking the hairy balls. and kissing the shaft, Jason is an expert at
how to orally worship a dick.

Something else appealing about Jason is that he's not a removed partner. He concentrates on
making sure Denver's dong is hard enough to cut diamonds, and he keeps his eyes on his partner's
face.

It's Denver's chance to give as a good as he got. Jason stands up, leaning against the bed post.
Denver doesn't deep throat like Jason, but he knows a juicy mouth is essential for a memorable
blow job.

"Oh, shit Denver," Jason sobs.

"You like that," Denver wonders.

"Fuck, yeah," Jason answers.

Screwing time arrives. Jason puts lube in that stunning ass of his and assumes the position -- all
fours. Denver gets a condom on, and aims his tool toward Jason's hole.

"This tight little ass is about to get it," he declares.

Denver is true to his word and gives it all to Jason's booty. Our bottom spews expletives and grabs
the bed cover. Yet, he's not resisting, nor asking his top stud to slow down. Takes the fucking like a
champ.

He really has no choice because Denver is transfixed. Each stroke is balls deep.

"Oh, fuck. Pound me," Jason demands.

"Don't say that," Denver proclaims as he gets more powerful with the fucking.

Jason might be howling out loud and biting the bed cover, but look at his dick. All hard.

When Jason is turned on his back, the two share a frenzied kiss. Ah, romance in the air!

The multiple hits to his prostate prove too much, and Jason's juice spouts on his stomach.

Denver pulls out and strokes himself to a nut. Too bad he didn't keep giving Jason a few more
manly strokes for good measure. Our top man's load carpets the rest of Jason 's stomach.

"Your cum is really warm, Jason says about his partner's load. Why didn't you give it a taste,
Jason?

"I had to fuck you hard like a Marine," Denver explains.

The two high five and Jason declares the scene acomplete success. Hard to disagree, no?