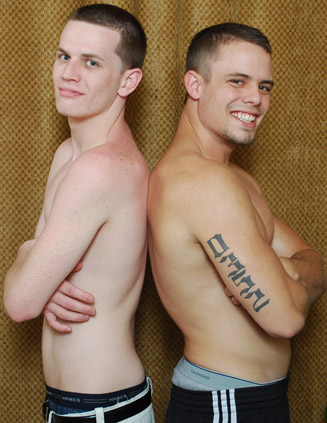 Straight boys are a peculiar lot. Their love for heavy metal. The inability to tell if someone likes
them. Finally, all that nervous energy they have before engaging in man loving.

Broke Straight Boys favorites Antony and Denverare back for a Memorial Day weekend session.
We learn Anthony has moved out of the area to live with his girlfriend and her mother. He
confesses life is filled with some drama, but "it could be worse." However, he's glad to be back in
the BSB studio.

Denver, feeling left out of the conversations, makes a face to get some attention. Of course it
works because he such a stud. He's all smiles and giggles, adding he's been enjoying the "man-sex
nowadays." Of course you have, you silly goose. We all have eyes.

Shirts are removed. Denver has been hitting the gym, and he can't wait to show off his body. The
improvement shows.

"We're getting into beach season and I don't have a lot of game," Denver observes.

There is a closeup of his nipple, and the shot disproves his lack of"game" theory.

Anthony still hasn't learned the value of sunscreen, his arms showing some burn. However, that
adds more sexiness to his lithe body.

Depending on your lust for Denver his attempt at a robot move is either: 1) the biggest turn on in
BSB history, or 2) a parlor trick he should only use when trying to impress a woman at a bar.

Both get on the bed, and Denver gets to dick sucking.

"I have some skills after a few tries here," he announces.

A confident man is a sexy man. Denver slobbers all over his partner's dick, slurping and drooling
like he's been doing this for ages.

"Fuck, dude," Anthony moans.

After some more slobbering, Anthony says what we all can see.

"That feels good," he announces.

"God. I love sucking that cock," Denver replies with a smile.

"Everybody loves sucking this cock," Anthony retorts. Don't you love a guy who tells the truth?

Denver tires of doing all the work. It's Anthony's turn to go down. Denver is a head grabber and he
pushes Anthony's head down. Resistance is futile. The cameraman asks Denver to stand up. When
he's on his knees, there is no more beguiling BSB model than Anthony. He's no slurper like Denver,
but Anthony knows how to swallow a dick whole. After some gagging, Denver expresses concern
for his partner.

"Choking a little bit," Denver wonders when Anthony comes up for air.

"A little bit," Anthony says.

"It's perfect for you.Don't worry," Denver grins back.

"It's been awhile, man."

Deep throating is like riding a bicycle. Once you learn, you're a pro. When Anthony's eyes water,
we know he's back where he belongs.

If he's beguiling on his knees, Anthony is completely dazzling with his ass raised for some fucking.
When Denver enters him, our bottom's "O" face returns. Denver fucks like a machine. In and out,
going as deep as possible. Almost makes you feel sorry for him until Anthony moans "fuck, man."

Denver, aside from being confident, is also considerate. He allows Anthony have a little control by
letting him ride that donkey dick. Our sun-burned lad transforms into a pogo stick, going all the
way down and popping right back up. It's like he can't get his fill.

Denver flips Anthony on his back, and one thing is quickly learned. Denver should never be paired
with a newbie to butt sex. His persistent thrusts keep Anthony's mouth in a perpetual circle. Watch
Anthony's toes. Those little piggies curl when a certain spot is touched.

Anthony cums first, his juice spattering that pale tummy. Denver's turn is next. His load is bigger
than his partner's. Anthony's face is all screwed up as if he's scared some seed will get near his
mouth. Come on, Anthony! Be a true bottom boy and taste some nectar.

Denver rubs their milky loads into the creamy skin of Anthony's belly.

"That's dirty," Anthony asserts.

Sure is. Hot too.