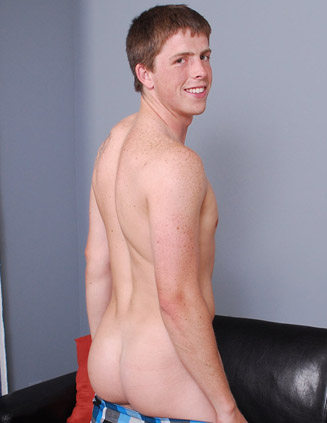 Zane Tate is the newest boy in town and is ready for action. He has a solid build with milky white
skin that is decorated with freckles along his shoulders that only serve to highlight his mid brown
hair and chocolate eyes. As Zane and I chat in order for him to feel a little more relaxed, Zane
admitted that although he had never jerked off before on camera, he was no stranger to indulging in
a little self pleasure. Standing up, Zane quickly stripped off his blue striped singlet, revealing a
light smattering of freckles across his upper chest. A moment later and Zane undid his belt and
popped the stud on his jeans before cheekily releasing his cock from the confines of his cotton
boxers. With his hanging free, Zane allowed the camera to zoom in close in order to take a good look
at his plump cock.

Sitting back down, Zane took off his shoes and socks before freeing himself from his jeans. Grabbing
the bottle of lube, he pumped a few squirts into the palm of his hand and leisurely massaged it into
his dick. Swapping from hand to hand, Zane slowly stroked his dick, encouraging it to get hard. It
was somewhat of a surprise to find out that Zane was a grower, his cock quite clearly one of the
more impressive we have seen at Broke Straight Boys. Zane, not at all fazed by the camera, slid his
hand up and down his thick shaft and was even able to follow in the footsteps of Jimmy by grabbing
the length of his dick in both hands every now and again. As he got into the swing of things, it was
easy to see that Zane was getting more and more turned on as he couldn't help but touch himself here
and there, his fingertips lightly stroking across his own chest.

Zane stood up, his hands never leaving his dick as he continued to jerk himself off. Every now and
again, he would roll his balls with his fingers which only served to encourage him towards orgasm.
Circling towards the back of Zane, the camera got a good view of his well rounded ass cheeks along
with a glimpse of a large tattoo on his upper left shoulder blade. The camera was also able to show
off the definite curve in Zane's dick, something that would be able to serve as a new experience for
anyone lucky enough to ride Zane's cock. Laying back down on the sofa, Zane rested against the arm
even as he dolloped a little more lube on his stiff dick. His hand slick with lube, Zane made sure
to work it all in as he picked up the pace. By now, Zane had worked up a steady sweat from all his
hard work and as he panted heavily, it was clear that Zane was standing on the edge of climax.
Swapping from hand to hand, he couldn't help but rock his hips up and down, almost fucking his own
hand. Pausing only to apply another dollop of lube, Zane pumped his shaft like a man with nothing to
lose. Suddenly, with a heavy grunt, Zane shot a huge load all over his stomach, the cum dribbling
down his side and from between his fingers.

With a dick like his, we hope to get Zane back into the studio sometime in the very near future!