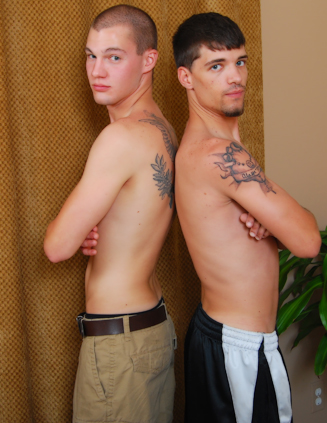 Chad and Darren were on the bed, already half naked with their tops off and clad only in their shorts. Darren is the perfect person to introduce Chad into man on man sex and proved he was eager to get going as he took off his shorts and underwear in record time before turning to Chad and helping him out the rest of his clothes. Sitting side by side, the boys started playing with their dicks but a moment later, Darren reached over and took control of Chad's cock. As Darren gently pumped Chad's cock, Chad decided to be brave and iniate his first hand job by wrapping his hand around Darren's dick and jerking him off. Despite his nerves, it didn't take Chad long to get rock hard, likewise with Darren.

Soon enough, it was time for Darren to show Chad how the perfect blowjob was performed. Leaning over, Darren slid the hard shaft into his mouth, fisting his own dick as he slowly bobbed up and down. Right away, it was easy to see that Chad was loving the feel of Darren's hot, wet mouth surrounding his cock. As Chad gently ran his hand back and forth over Darren's short hair, Chad admitted that Darren's efforts felt pretty good. Mixing it up, Chad stood up on the bed while Darren shifted onto his knee's infront of him. Darren quickly swallowed down Chad's dick again and showed him some fancy tricks with his tongue. Despite all of Darren's skills, Chad's nerves got the better of him and he went a little soft. In order to give him some breathing space, I told Chad to lay down on his front. As he did so, Darren gave him a hard slap on the ass and I asked Chad if he was interested in getting fucked but Chad wasn't up for it. Darren, on the other hand, was happy to do more and as he grabbed one of Chad's feet, he pretended to bite it, joking that he was going to lick Chad's foot.

However, despite Darren's joke, I thought it was a great idea so I told Darren to just go for it. Without a moment's hesitation, Darren slowly licked a trail with his tongue from Chad's little toe, all the way to his big toe. Looking over his shoulder at what Darren was doing, Chad wasn't too sure what to think but as Darren started sucking on his toes, it was obvious that Chad didn't really mind what was happening. As Darren licked, sucked, nibbled and kissed the lovely foot he had hold of, Darren reached down and leisurely wanked himself off. I questioned Chad as to how it felt, Chad grinning slightly as he said it felt weird but that he liked it a little. When it seemed like Chad was relaxed enough, I asked if he was ready for some dick in his mouth, Darren giving Chad another slap on the ass as Chad got to his knees. Darren scrambled to his feet as Chad settled in front of him and rather hesitantly took Darren's dick and placed the head in his virgin mouth. Not quite sure what to make of the new taste, Chad bobbed back and forth as he got used to the feel of a dick in his mouth. I could see that Chad was having a little trouble with his first blow job so I told him to just do what his girlfriend does to him. With a shy grin on his face, Chad grasped Darren's dick around the shaft and went back to work.

Darren told Chad to lick the head of his dick, Chad quickly followed orders and lightly ran his tongue around the head of the thick cock, all the while, looking up at Darren. So pleased at Chad's efforts, Darren leaned down and kissed Chad who immediately reciprocated. Sliding the cock in and out of his mouth, Chad was learning fast but as he looked up again, Darren swooped back down and locked lips with Chad, this time, putting some tongue into the kiss. Despite being new to cock sucking, Chad soon had Darren's cock rock hard. Twice more, Darren and Chad snogged, hot and heavy broken only by Chad learning how to get used to a cock in his mouth. Chad was doing so well for his first time, that he was even able to allow Darren to do some gentle face fucking. However, it was clear that Darren was close to cumming so he pulled out and started jerking off, all the while, Chad waited on his knees and with his tongue poking out of his talented mouth. Wanking off at a furious rate, Darren sprinkled cum onto Chad's waiting tongue, even dabbing the head of his cock onto it before tapping his dick on Chad's chin. I told Chad to clean off Darren's cock and Chad instantly opened up wide and made sure that Darren's cock was nice and clean. There was no doubt that Chad more than earned his money on this shoot but I'm sure he will be back in the studio very soon.