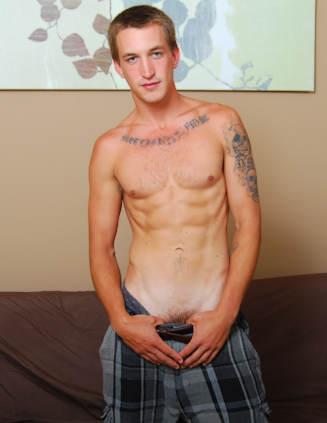 The newest boy on Broke Straight Boys is Colin. Blond Colin has recently had his bank account cleared out by his ex wife and as such, he needs to make money as soon as possible, thus, a visit to the BSB studios was in order. Standing up and taking off his polo shirt, Colin revealed a very toned upper body decorated with a 'Scottish Pride' tattoo running along his collar bones. His shorts hit the floor only a moment later and even though he said he was feeling somewhat vulnerable at that moment, Colin did a quick turn before the camera. As Colin took off his boxer shorts, he couldn't help but blush as he was totally exposed in front of both an unfamiliar camera and another guy. With a close up shot of his dick, Colin admitted that, when hard, his cock was around six inches long and that he wanked off once or twice a day. Now, however, it was time to get the show on the road. Sitting back down, Colin gave his cock a couple of squirts with some lube and started playing with his dick. Despite being nervous, Colin went to work on his dick and only minutes later, his cock was rock hard.

Colin stroked his dick from the base to the thick tip, massaging his heavy balls every now and again as well. I had to compliment Colin on such a nice looking cock, my comment only making him blush even as he said 'thank you!' Another couple of dollops of lube and Colin went back to tugging on his dick in earnest. Standing up, Colin couldn't help but laugh as he gave his cock a few slaps as requested. A moment later, he gave the palm of his hand a slap with his dick, quickly followed by three or four more. Colin liked to alternate his wanking style from quick tugs on his dick to stroking his hand over the length of the shaft and back to quick tugs again.

Although he wasn't too sure of what to make from my suggestion to fuck the couch, nonetheless, Colin quickly scrambled on top of the couch and lay down lengthwise. Right away, Colin started humping the couch with vigor. As he ground his dick down onto the couch, Colin reached around behind and slapped his ass cheek before pulling his ass to one side so he was showing off his virgin hole. Rearranging himself, Colin shoved his dick back between his legs and gave himself another hard slap on the ass. By this time, Colin was panting hard as he squeezed his dick while fucking the couch. Reaching around again, Colin used both hands to spread his ass cheeks so that there was a better shot of his ass before going back to fucking his hand. Reapplying the lube, Colin knelt on the sofa as he draped himself across the back of it, all the while, putting in some hard wrist action.

It was easy to see that Colin was getting closer to cumming as the seconds ticked by. As he moaned in pleasure from the feel of his hand on his cock, I asked Colin if he had ever fingered himself before, something Colin quickly denied. However, after offering him another $50 to do it, he did allow that a girl had done it to him before. Colin slicked up his ass, running his fingers along his crack before gently inserting a fingertip into his tight hole. Even though Colin experienced some initial discomfort, it quickly turned into pleasure as he wanked himself off. Swapping fingers, he spread his ass cheeks as he slowly dipped his finger in and out of his ass. In a daring move, Colin introduced another finger into his ass, his pleasure tinged with a little pain again as he wiggled them around. After a few moments, I told Colin he could stop and just jerk off. Sliding his fingers from his ass, Colin gave his cheeks a couple of good, hard slaps that left red handprints on the pale skin.

Sitting back down, Colin gripped his dick firmly and jerked off at a fast pace. After a minute, Colin admitted that the finger had felt pretty good and surprisingly, he slid forward and started fingering himself again. Colin was so obviously turned on by what he was doing, I knew he wasn't going to last much longer and sure enough, Colin shot cum all over the couch and his upper body, even hitting himself on the chin. Wiping off the cum off his chin, Colin turned around and showed off his ass before rubbing his cum over his hole and using it as lube to stick a finger up there one last time.