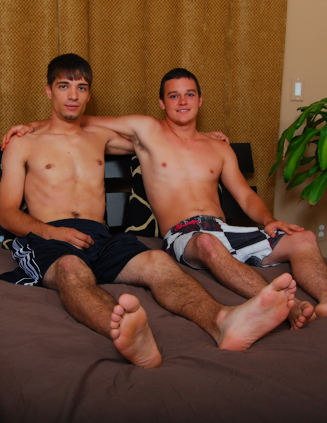 Today, the ever popular Bobby and Darren are back in bed together. Since their last scene together, Bobby has had to cut his hair off due to a stint in jail while Darren has been doing odd jobs in various places. Both boys quickly stripped off their clothes, throwing them onto the floor before grabbing their dicks and jerking off. As Bobby and Darren were seasoned professionals, it didn't take them long to get rock hard but as Bobby got there a mere few seconds before Darren, he was on the receiving end first.

Darren leaned over and slid Bobby's hard dick between his straight boy lips and slowly bobbed up and down. With a tight grip on his own dick, Darren quickly showed that he had some great oral skills as he had Bobby moaning in pleasure almost instantly. Bobby lay a heavy hand on the back of Darren's head in a hint for Darren to take his cock deeper. While he didn't quite deep throat, Darren, nonetheless, did a trick that had Bobby in awe of his skills. It has to be said that Darren is one of the noisiest cock suckers that has ever appeared on Broke Straight Boys and as Bobby said, also one of the messiest. Soon enough, it was time for Bobby show Darren what he had learned in jail. Even though Bobby said he hadn't learned much, there was no doubt that Darren was still going to appreciate his efforts. Darren stood up beside the bed while Bobby sat down on the edge and with his mouth wide open, Bobby went to work on Darren's thick cock. With his cock pointing towards the ceiling, Bobby concentrated on just the head of Darren's dick. Darren was soon breathing heavily as Bobby worked hard on his dick. As he bobbed back and forth, Bobby jerked himself off and it wasn't long before he was ready to ride Darren's ass.

Darren and Bobby got themselves ready, Bobby then sitting up against the head board of the bed while Darren positioned himself over Bobby. Holding Bobby's dick straight, Darren slowly impaled himself on the thick shaft as he sat down. Since Darren hadn't bottomed in a while, it took a few tries before Bobby was all the way in. Gripping the head board, Darren started riding Bobby's cock in a quick but shallow motion. Little by little, he was able to work Bobby's cock deeper in his ass until he was able to sit all the way down. Bobby, as Darren worked hard, was in seventh heaven from the feel of Darren's tight ass around his thick cock. However, it was a difficult position for Darren as he switched from holding the head board for leverage to reaching behind and bracing himself and back to the head board again.

Bobby reached under Darren, supporting his weight while thrusting up into the tight ass even as Darren gripped the head board, content to let Bobby do all the work for a few minutes. Darren was soon moaning in pleasure as Bobby set a smooth rhythm while fucking him. Darren was loving it so much, he just had to say that Bobby had certainly learned something in jail. The boys switched it up; Darren flipping over onto his back and bent over almost double as Bobby immediately slid his dick back home. This particular position was one that Bobby had never done before so was somewhat hesitant at first but it didn't take him long to get warmed up and was soon riding Darren's ass hard. Demanding that Bobby put his hands on his ankles, Darren was grunting in ecstasy on each thrust as Bobby fucked him.

As his knee's started to give out from the awkward style, Bobby dropped down to kneel on the bed, pushing all the way back into Darren with long and hard thrust. Holding his dick and balls out of the way, Darren gasped as Bobby slid in and out in long, deep strokes. It was almost as if Bobby was torturing Darren as he switched to soft but still deep strokes. It was obvious that Bobby was almost ready to cum as he suddenly sped up even as Darren grabbed his own cock and started jerking off. Only minutes later, Darren shot cum over his stomach and into his pubes while Bobby was still fucking him. Pulling out, Bobby knelt next to Darren and wanked off furiously, only to cum a few seconds later by sprinkling cum over Darren's stomach, arm and even the bed.