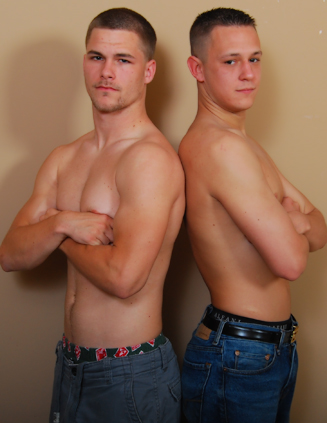 Broke Straight Boys is very pleased to have two of the hottest boys on the site, Jimmy and Jason, appearing on the bed together. We chatted about the boys favorite baseball teams and the last time they saw a game before I asked Jason how his throat was feeling. Jason opened his mouth wide and tilted his head back, poking out his tongue as I moved in for a closer look. I then asked Jason if he had ever been 'orally abused', Jason replying that he hadn't. I turned to Jimmy, asking him if he got aggressive with his girlfriend. Jimmy laughed and said that he did. Jimmy also said that he sometimes slaps his girlfriend when she sucks his cock as she was really into it. I told Jimmy to give Jason a slap across the face. Jimmy wasn't too sure how hard to slap Jason but nonetheless, gave Jason a couple of gentle slaps. Jason then gave Jimmy a good whack across the face that took Jimmy by surprise. With both boys laughing, I decided it was time to get the show on the road and told them to undress.

The boys stood up, just clad in their boxers, playing with their dicks through the material. Jimmy wanted to stand up and get hard and as it was something a little different and Jason didn't mind, I told him to go for it. As standing was Jimmy's preferred position, it didn't take him long at all to get rock hard and ready. Jimmy stripped off his boxers and lay down on the bed while Jason knelt between his legs and leaned down, licking a long stripe up Jimmy's cock. Bobbing up and down over the thick dick, Jason quickly proved he had some serious cock sucking skills. Jimmy couldn't help but be a smart ass, asking when he could start slapping Jason around which only made Jason laugh. Sucking on the very tip of Jimmy's cock, Jason flicked his tongue along the underside, making Jimmy start panting. Jimmy, when Jason came up for some much needed air, gave Jason a couple of playful slaps across his face, both boys grinning.

Going down deep, Jason gagged as the cock brushed the back of his throat but kept going. Mouth open wide and head held in place, Jason allowed Jimmy to piston his cock in and out of his mouth. Jason did well but one particular hard thrust had him breaking away and coughing as he wiped his mouth. Nonetheless, Jason went right back down and worked hard on Jimmy's dick again. A few minutes later, Jimmy stood up as Jason slid to his knees in front of him, swallowing down Jimmy's cock. Gathering up speed, Jimmy was thrusting in and out of Jason's open mouth when Jason choked but as Jason was gasping for air, Jimmy pulled him back onto his cock for more. A slightly different angle and Jason gagged, almost to the point of no return but like a trooper, he allowed Jimmy to take control again. After a few moments, Jason was gathering his breathe again when I asked him if he was ready to get fucked but Jason said no and immediately went back to cock sucking. One final gag and Jason announced he was over the cock sucking.

Both boys got themselves ready, Jimmy laying down on the bed again while Jason slowly lowered himself onto Jimmy's rock hard cock. It took a few tries but eventually, Jimmy was all the way in. Reaching behind, Jason spread his ass cheeks so that there was a clear view of Jimmy's dick sliding in and out of his straight boy ass as Jason started to ride Jimmy's cock. Almost right away, Jason set himself a hard pace as he bounced up and down. Jason soon had Jimmy groaning in pleasure as he rode Jimmy hard. Switching it up, Jason braced his feet on the bed, allowing Jimmy to fuck him from below. Jason was clinging to Jimmy for balance as he felt his ass get pounded by Jimmy's thick dick. Jimmy, holding Jason up, sped up so that he was fucking as fast as a jack rabbit. It was a difficult position for Jason so Jimmy flipped Jason over onto his back and held his legs over to one side as he guided his dick back inside of Jason's ass. An odd angle of the initial thrust made Jason flinch away but Jimmy was able to set a steady pace almost right away. Jimmy was fucking Jason prison style; hard and without mercy, pausing the once to give Jason a quick slap across the face. By this stage, Jason was pulling on his own rock hard cock and it was simply a matter of who was going to come first. Pulling out, Jimmy tore off the condom and started wanking off as he stood over Jason's outstretched tongue. Jason didn't even flinch when Jimmy rained cum into his mouth and down his chin. Seconds later, it was Jason's turn as he shot cum all over his chest and stomach.