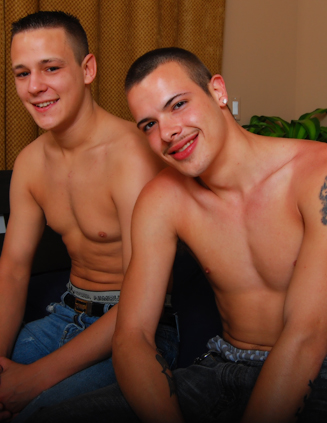 A newly returned favourite, Jason, is sitting on the bed alongside Jamie, and today, they have a hot shoot in store for the Broke Straight Boys members. As we chatted, the conversation circled into guys slapping each other on the ass while playing sports and how it wasn't considered a 'gay' move. Taking off their tops, the boys were somewhat taken aback when I said that the hottest thing they could do right now was to make out with each other. Jamie and Jason laughed when I told them to just do it already but after a 'I'm still straight even though I might kinda like it' fist bump, they leaned in towards each other and locked lips.

They moved closer to each other, both putting a little tongue into it as they snogged. Jamie reached down and started rubbing Jason's cock through his jeans and a moment later, Jason reciprocated. For a couple of straight boys, they seemed to be enjoying the kissing as they were both starting to breath heavily. As they broke apart for some much needed air, Jason and Jamie stood up and stripped down to the buff. Laying back down on the bed, they grabbed each other's cocks and slowly stroked as they immediately started kissing again. As they made out with each other, it didn't take long for the boys to get half hard so I told Jason to go down on Jamie as Jamie's cock was the hardest, and without a quibble, Jason swooped down onto Jamie's thick cock.

Jason bobbed up and down, quickly taking off his watch before rolling Jamie's heavy balls in his hand. Right away, it was clear that Jamie was in heaven with the feel of Jason's mouth around his dick and pushed on Jason's head in a hint for him not to stop. Jamie's cock was rock hard and even though Jason was a complete pro, he ventured down a little too deep and choked but after a deep breath, he slid the thick shaft between his lips again. Although Jamie said the blow job was great, he was trying to imagine a girl called Jezebel being the one giving it him. Jason rolled his eyes and laughed before going back down and pulling out all the tricks he had picked up from previous shoots. Now it was time for the turn about and for Jamie to show off his skills. Jason propped himself up on his elbows as Jamie went to work. Only a moment later, Jason lay right back as he started panting in pleasure while Jamie put his tongue to good use. As Jamie bobbed up and down on Jason's long dick, he reached down and started jerking himself off. Jamie was doing such a good job, Jason's toes were curling in ecstasy. However, Jason didn't have long to enjoy the blowjob as Jamie wanted to get down to the fucking.

Slicking himself up with lube, Jamie complained jokingly about the condoms being extra thin while Jason rolled over onto his stomach and showed off his soon to be fucked ass hole. Ready to get started, Jamie knelt in between Jason's legs and slowly worked his cock in, helped by Jason's instructions. As Jamie moved the wrong way, Jason yelped, only to reach behind and guide Jamie's dick in. Finally, Jamie was all the way in and was able to set a steady pace. His ass raised in the air, Jason grunted on each thrust as Jamie started to really pound his ass. Despite having been fucked before, Jamie's thick cock was proving somewhat of a challenge for Jason and he was finding it hard to relax into getting fucked. In a show of strength, Jamie rolled over onto his side, taking Jason along for the ride so they were spooning, all the while, his cock was buried deep in Jason's ass. This new position was immediately easier for Jason as he was soon panting in pleasure rather than pain as Jamie thrust in and out of his warmed up ass. Grabbing hold of his cock, Jason started playing with himself as Jamie fucked him harder and faster.

Switching it up, Jason manouvered onto his back, legs in the air as Jamie knelt between them and slid right back into his tight ass. Both boys hard worked up a hard sweat and it was obvious they weren't too far from cumming, it was only a matter of who first. Jason came first as he was still being fucked, spraying cum all over his stomach and chest. Pulling out, Jamie's hand flew back and forth over his thick dick as he got closer to cumming. Jason got the shock of his life when suddenly, Jamie shot him right in the eye and over his face.