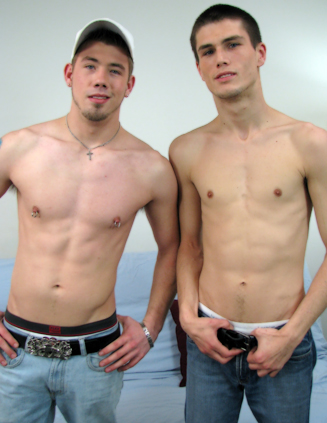 Broke Straight Boys welcomes back Braden and we also introduce Sean, a newcomer to BSB. I asked if Sean was gay or straight and Sean said he was straight and while Braden is also straight but he could also be considered 'Gay for Pay'. Right away, it was clear that Sean was very nervous about what he was expected to do today. However, I explained to him that we were going to start him off fairly slow with a dual jerk off scene that would pay $200 each. The boys stood up and started stripping off, Sean revealing a somewhat pale but toned slim body. Sean had dark hair, styled in a close crop with brown eyes and a bit of dark stubble on his chin. As both boys sat back down on the futon, I put some straight porn on and told them they should start getting hard.

Like always, Braden was as hard as a rock in only a minute or two, while Sean, still very shy, looked like he was going to take a little longer. Braden stood up, taking off his underwear and I had to compliment him on his toned body as he had obviously been working out at the gym. As Sean was still a little soft, I offered him more money for Braden to go down on him and help him out. While Sean was a bit shocked at the suggestion, after a little more discussion and $500, he was willing to try giving his first blowjob and then have Braden blow him. So, with some hesitation, Sean leaned over and took his first cock in his straight boy mouth. At first, it looked like he didn't know what to make of the taste of a cock in his mouth but as his head bobbed up and down, Sean was even brave enough to lick down the shaft every now and again. As for Braden, he just leant back and enjoyed a wet mouth around his dick, playing with his nipple rings as he got more turned on.

Now it was Braden's turn to suck on Sean's dick but Sean wasn't hard enough for his liking so Braden sat and watched the porn, stroking his own cock, while Sean sat beside him and worked hard at getting erect. It didn't take long before Sean was semi hard, Braden swallowing him down and putting all his skills to use. It was obvious that Braden was working that cock like a pro as Sean was moaning for more even as he reached around and jerked on Braden's dick. Sean admitted that Braden sucked cock pretty good and that a dick in his mouth wasn't as bad as he had thought it would be. I told him to suck Braden's cock again, Sean once more sliding the hard dick into his mouth. Sean was a quick learner, already using some of the techniques that Braden had just used on him.

Sean took a break, jerking Braden off before going down on him again. Braden was totally turned on by how well Sean was doing, panting heavily as Sean continued to suck on his dick. Taking control of their own cocks again, Sean and Braden jerked off furiously, Sean watching Braden closely. Braden came first, cum spurting over his thigh and hand while it was only a matter of moments before Sean came as well, cum dribbling down his shaft and over his hand. Both boys did a great job, and both will be back at BSB in the very near future.