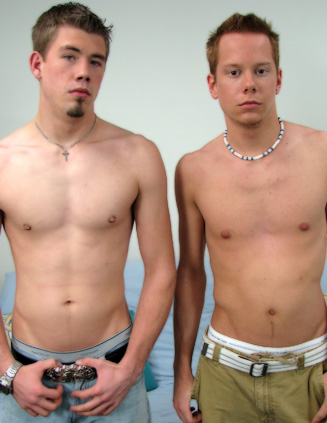 In the studio today, we have Braden and Peter. Braden has been in a few shoots with us before while Peter is new, only having done a dual jerk off scene with Braden and now, it's time to introduce him to blow jobs. While Peter is still quite nervous about what goes down in the Broke Straight Boys studio, he is willing to keep an open mind and try new things. I offered the boys $600 each to do the oral scene which they were both happy with. The guys stripped off to their underwear and sat on the futon, Braden and Peter stroking themselves as they watched some straight porn, only momentarily distracted by the unique slow motion porn. As I fixed the dvd, they took off their underwear, Braden's cock was hard almost right away while Peter's dick was coming along nicely.

Braden leaned over and took Peter's cock in his straight boy mouth but from Peter's expression, it was clear he was very unsure of what to think about a guy sucking on his dick. Still, Braden had him panting within a few minutes, Peter admitting the blow job was ok but different, Braden jokingly asking if he was pretty enough. The joke helped to ease some of the tension in the room, Peter relaxing little more and a jovial atmosphere was added to the scene. Braden wanted to try something different; a new strawberry-kiwi flavoured lube. Dripping some on Peter's cock, both boys tasted it, Braden immediately saying he was going to regret the lube while Peter just laughed. Wiping the lube off Peter's dick with a paper towel, Braden went back to work on the hard cock, alternately sucking and jerking Peter off.

Now it was Peter's turn to take his first cock in his mouth, and being very hesitant to try it, he needed a little encouragement. While Peter had been gathering up his courage, Braden had been able to get his dick hard again, something that was going to make it easier for Peter's first time doing oral. With a laugh and a deep breath, Peter closed his eyes and licked at the head of Braden's cock. His head bobbing, Peter ran his lips up and down the shaft of the hard dick as he tried to get used to another guys cock in his mouth. Peter asked how he was doing, Braden saying he was doing ok but that he should try the flavoured lube. It seemed to make a difference, Peter going down deeper on Braden's dick.

They switched, Braden swallowing down Peter's cock again, getting Peter hard in only a few minutes. From Peter's expression, he was enjoying it a lot more this time round as Braden sucked him off, pausing every now and again to tug hard on Peter's dick. Braden put a dollop of lube on Peter's cock, wanking him off until Peter climaxed, cum spurting over Peter's toned stomach. It was time for Braden to cum for the camera and even though Peter was prepared to go down on Braden again, I let him off easy and told him to just jerk Braden off. With a few directions from Braden, Peter took the stiff cock in hand and put in some hard wrist action for a few minutes before Braden resumed control of his cock, his cum spilling over his hand and between his fingers. Both guys were exhausted from all their hard work but I know that they will be back very soon. Maybe next time, Peter will get his cherry popped?