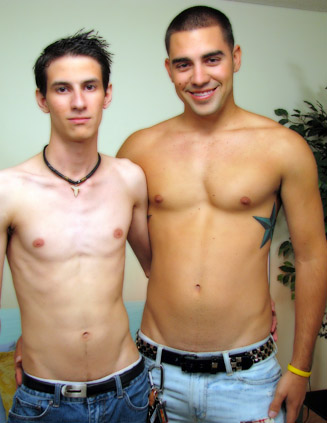 In this shoot, I had paired up Mike and Chasen to work together. Mike being our little gay boy that likes to mess around with the straight boys, and then we had Chasen our 20 year old straight boy. He just so happens to be related to Tyler one of our more popular models. This shoot was done after his solo scene, and so he was ready to start making more money that could make a difference in his debt. I explained to Chasen that he was going to be doing an oral scene with Mike and that Mike would go first in sucking his cock. Then, from there he would give oral and for doing the shoot he was going to walk away making $600. Both of these boys had big cocks so the plan was to watch and see how they would interact with one another. Trying something different I had both guys stand up facing each other, and then I had Mike take off Chasen's shirt. I asked Mike if he liked what he saw and he said yes. Chasen being the show off that he can be started to flex his chest muscles. To see about how far Chasen's limits were set I asked him if he had ever kissed a guy, and he said no. When I asked if he would do it, he basically said yes. The two them just lightly touched lips and backed away.

To have the shoot continue on, I had Mike get down on his knees and start to undo Mike's pants. Getting to the button on Chasen's jeans, Mike had to have some help with the button, before continuing on to get to the underwear. Mike reached out to feel the hung cock behind the briefs, and that's when I had him pull them down. Chasen's dick was out for us to see, and it looked to be like 5 inches or longer soft, and hard he said that he gets to just over 9 inches. I told Mike that he could go ahead and start to suck on it, so he leaned forward to put the straight boys cock in his mouth. The blow job must have been good, because Chasen's dick started to grow and as its size increased Mike had to open his mouth wider. I gave Mike a ruler just so we could see how big it was. The first reading he gave me was 7.5 inches. Continuing to suck I wanted him to keep going, and Mike was saying that his jaw was starting to hurt. Then, again after a while he re-measured and the dick was over 8 plus inches. Mike said it was one of the biggest dicks he had ever seen.

This was the best chance for the guys to switch roles, and so I had Chasen finish getting out of the clothes that he was in. Including his little black socks so that we could see his feet, and then he was ready to undress Mike. Starting with Mike's shirt, Chasen stripped it off and continued to go south to the pants. Teasing Chasen was slow to pull off the underwear, and he got down on his knees in front of Mike. Right then, he wasted no time in putting the gay boy's dick in his mouth and started to suck. Chasen seemed to get into the dick sucking and was taking most of it in his mouth. Occasionally, he would stop and lick the shaft and tip, with Mike complimenting him on his oral skills. The guys paused and Mike took a seat on the couch, so that they could both be more comfortable. As the dick sucking happened I did have Chasen measure Mike's dick just so that we could compare the two. They were about the same size, except for that Chasen's cock was thicker.

Sitting side by side on the couch they both stroked their dicks to watch some porn, and were racing to see who could get off first. They would trade glances at one another to see who was getting closer. Mike let out that he was about there, and Chasen kind of showed signs that he was getting turned on watching. With some heavy breathing he shot his clear cum load all over his stomach. Leaning over Chasen took a look to see just how much cum was there, but he kept up his fast jerking. It took a while for Chasen to get to his climax, but when he did he came on his stomach. I asked Chasen about his first little gay experience, and if he was freaked out about it? He said no that it was fine, and that he had got some tips from his cousin Tyler. When I asked if he would consider doing anal sometime soon he gave me a good strong yes. Chasen will be a rock star with that monster cock of his.