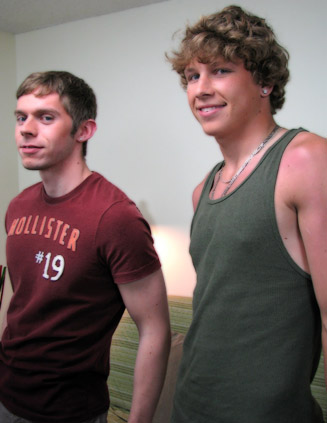 Introducing both the models that I had in the studio, I had returning model Jordan and new model Scott. Scott is 20 years old, bisexual, and his experience with guys consists of circle jerks and oral. He even admitted to enjoying sucking cock, he just hasn't had a chance to go all the way as far as fucking with a guy. Going back over to Jordan he is still 19 years old, and still very broke. Actually, long story short, the money he made from his first shoot got stolen from his apartment, so now he needs to make that back and more. Also, he got a hair cut since the last time I saw him, and his hair looks much better shorter. Even though he hates having short hair, I threatened to cut it myself next time. Thinking for the moment off the top of my head, I came up with the idea that the two of them were going to jerk off in a kind of a race. Since one was new and the other one has only been with us a short time, I didn't want to make the shoot too complicated. The plan was that the person who shot their load the furthest and the most cum would make $500.

To get started the first thing that we needed to do was have them get undressed. Having them stand for me in front of the couch, I had them take off their shirts. Keeping the clothes coming off I had them remove their pants. Once they were just in their underwear I accidently got Scotts name wrong, and I called him Steve. Steve was the name of a guy that I had just talked to on the phone about a shoot coming up. Scott said that he would forgive me and then told me that he was currently going to school in New York. Taking a seat on the couch, I told them to start working on getting hard, so that their underwear could come off. Both guys were enjoying the porn that I had on, and I had Scott take off his underwear first. Scott grabbed the bottle of lube off the table and started jerking off with it. Now, that Jordan was almost hard he stood and dropped his boxers in a kind of strip tease for the camera.

Both guys were rubbing their cocks on the couch, moaning and breathing really heavy for the camera to pickup. I noticed that Scott was keeping his eyes closed and down a majority of the time. Jordan on the other hand was sliding more and more down on the couch getting in a laying down position. Looking back over at Scott he was busy fucking his hand and I thought that at any moment either one of them could go. They were talking dirty to the girls in the porn about what they would do to them. The winner to get off first was Jordan who gave me a good warning that he was about to blow his load. Moving in on him, he started to shoot his load and orgasm at the same time. Which, always makes Jordan move and shake his body a lot when he cums. His hand was covered in cum and some even landed on his stomach, because he was jerking off really hard.

Scott spoke up that he was now going to get off, and just as I moved the camera over to him to catch the shot. Cum started to spray all over his stomach, and it was clear that he happens to be a shooter. Right away, Jordan wanted to know who the winner was and how much each of them was going to make. I said that I believed that Jordan was the one that had the biggest size load, while it was Scott who cleared the furthest distance. In this case, I would have to say that it was going to be a tie and they were both walking away with $500 in their pockets. I then asked Scott if he wanted to come back and try some fucking, and he told me no. I wasn't expecting to hear that from him, but I told him that we would go to the next level and just do oral. He even seemed to be down for doing it with Jordan who didn't seem to mind hearing that. We will see when we can get them in for another shoot.