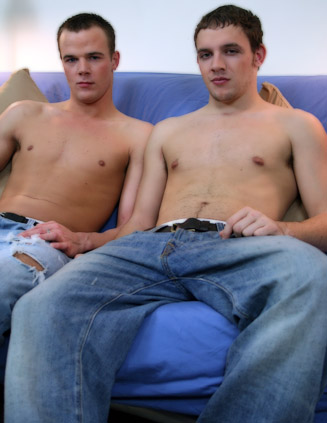 Recently the members voted on the site and said that they wanted to see Austin and CJ in a scene together. Broke Straight Boys recently incorporated a forum on the site where members can talk with one another, they can talk with other models, and can talk with me. One of the things that we did was had a charity auction and what we did was auctioned off the sheet that Austin and CJ were going to fuck and cum on. The big pay off was that we were going to have them autograph their cum stains. Plus, we sold their underwear that they were wearing as well, which they just found out about. All the money raised was going to be donated to a local no kill animal shelter in the area, and because of that Mark the bidder offered to double his payment. I went over the scene with the two boys and what they would be doing. CJ was going to make more money for bottoming, and I made sure that he was ready to take one of the biggest cocks he ever has taken here on Broke Straight Boys. Austin on the other hand was going to be topping and that meant that he was going to be making less money for taking the easy way out.

Both started to strip out of their clothes, standing up they took off their shirts, and went straight for their pants next. I explained to them that they both have done oral together before, so doing this shoot should be a piece of cake for both of them. My last request for them before they really got started with any action was that I wanted to see some passion. Right away, Austin fired off what kind of passion and I told him that I wanted to see kissing. CJ said no, and I approached him to get him to change his mind. I wanted him to explain his reason why not, and CJ said that kissing was the one thing that truly makes him connect with girls. So, by doing that he would be crossing a line that was a no, no for him. I respect him for his beliefs and dropped the kissing. Moving on I had them drop their underwear, and both guys took a seat on the couch. I told them to do their own thing I didn't care who gave oral first or what position they did things in. Austin leaned over and took CJ's cock in his mouth, who was already almost hard. CJ reached over and started to jerk Austin off at the same time.

After a while of Austin giving oral I had them switch, and it was CJ's turn to take a dick in his mouth. CJ's personality was that he likes to be on camera, but was shy in showing any kind of emotion. He got started giving Austin head, and was able to get a little more than half of the cock down his throat as he swallowed it. The two of them looked good together, and I asked if they were ready to do some fucking. Austin was the first one to speak up and say yes, so while the two got themselves prepared I got the couch into a bed. It was CJ's decision that he wanted to start out on his back, getting into position he lifted his legs up into the air. Austin slowly guided the tip of his dick towards the hole, and when he was there CJ's hand took a hold of Austin's leg. Pushing forward Austin worked his cock inside, and CJ was a little in shock from what he was feeling. With his hand on Austin's leg he could slow Austin's movements down. It has been a while since he has been fucked, and now it was by a huge, MONSTER, cock. It just took some time for him to relax in order to allow Austin to get all the way inside.

Once Austin started to get into a grove, he was fucking CJ like a pro and that meant that we were in for a show. Watching Austin his whole body would kind of do this wave movement and Austin's ass cheeks would squeeze when he pushed in all the way. CJ was doing a lot more moaning this time than in any of the other shoots I had put him in, and so it was good to see him a little more vocal from the pain. After a while though, I could tell that this position wasn't the best for Austin to be able to go full power in. Stopping them, I had them change into the doggie-style position and that was when Austin let CJ's ass have it. He pounded the hell out of him, so after only a few minutes CJ said that he couldn't hold himself up any more. The two moved to lying on their sides, and it was still good to see them do more fucking and not wimp out on my. Austin let out that he was getting close to cumming.

The two of them jerked off and actually it was CJ that first blew his load and it went all over the sheet right in front of him. It was a good size load, and Austin was in behind him jerking as fast as he could. Slowly as Austin was building up to having his orgasm he worked his way to being just over CJ to shoot his load. He gave me a warning that he was getting close, and sure enough he shot a massive load that just covered the sheet in cum. I couldn't believe that Austin shot as much as he did, and I figured out later it was all because of how long he fucked for. Most of the time, I don't get guys to fuck for that long. After they were done, Austin thought it would be a little hard for him to draw a circle around his explosion of cum, so they just signed the sheet. I hope to pair them up with some of the newer models that have appeared recently on broke straight boys. Keep your eyes open for what comes next.