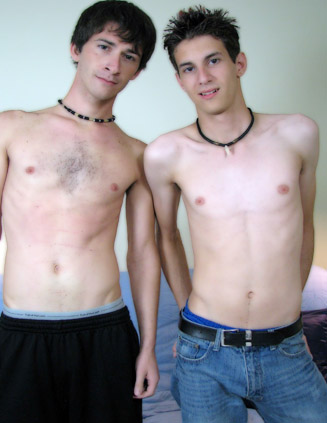 I was able to get the kissing cousins back in front of the camera once more. They both called me up asking to see if there was any work for them to do. Thinking about it, and what I had, I found that they did a great job with one another the last time they were in the studio. So, I figured why not see if I can get them to go all the way. Without telling them that I wanted them to fuck each other, we setup for them both to come in to do a shoot later on in the week. When Thursday had rolled around, they were both right on time at my door. We talked for just a few minutes before we got started just saying hi, and getting caught up. Then, we moved over to the couch and they took a seat ready to get started.

When we got started I asked them, if it was awkward after they did the shoot together last time. Both of them said no, it was just a little different being in front of the camera doing it was all. I brought up that the reason I had them come in was, because they did such a great job last time that I wanted to see them go all the way and fuck this time. Right away, Anthony asked how much, and I said that I would pay them $1500 a piece. This was because they were related, and the fact that I knew they were going to need an incentive to do it. For both Anthony and Mike they seemed to be money driven, so when we were set to get started I had them take off their shirts. I just had them finish getting undressed the rest of the way. As they were about naked, I asked if they were going to use a condom, or not since both they were family. Thinking about it, both decided it would be better to use a condom. Joking around that Anthony didn't want to get pregnant with Mike's baby.

Taking a seat on the couch I told Anthony that it would probably be best if he started with the oral to get Mike hard and ready to do the fucking. Leaning over Mike, Anthony positioned himself so that he could put the dick in his mouth and be comfortable. He took hold of the flimsy cock, and put it in his mouth. Getting started it took Mike a minute to relax and then his cock started to get harder. As it started to stand straight up, Anthony was doing a good job deep-throating the whole thing to the base. He moved down on the floor in front of Mike to make it easier to give head. Holding it toward him, he kept sucking and paused for a moment to suck and lick on Mike's balls. After a moment or so, he went back to sucking dick. Mike was moaning and enjoying the oral, when he grabbed the back of Anthony's head and pushed him down. Mike started to face fuck Anthony's mouth and it was hot to watch the two of them get into the oral so much.

They were ready to get started with the fucking, and so to do that Mike put on a condom, while Anthony got the couch into a bed. Anthony decided that he wanted to start out on his back, so they took their positions on the bed. Both applied a lot of lube to their parts, and Mike slide in towards Anthony's asshole. He guided his dick in, and about half way in Anthony kind of freaked out from the size of Mike's dick. After he relaxed, Mike was able to push his dick in the rest of the way. That was when the two of them started moving, and Mike pounded the hell out of Anthony's hole. Anthony kept yelling that he wanted to be fucked harder, and both of the guys were doing some pretty loud moaning. I was impressed by how into it they were getting, and maybe in some ways they were fulfilling a fantasy.

Once the guys put a pillow under Anthony's back and butt, that seemed to propped him up high enough that Mike was able to do a better job fucking. Anthony's legs got high up in the air and he yelled that he wanted more. At lease in this position, I was able to get a much better view of the penetration. I did interrupt them to change positions and Anthony decided to ride Mike's cock. Sitting on it, he started to move up and down, and I think that Mike was doing more moaning than Anthony. Reaching around Anthony spread his ass cheeks apart for me to get a better view, but he was enjoying the fucking. The two guys decided that they were ready to get off. Lying next to each other on the bed, they both were stroking so fast, that at any moment one of them was going to shoot. Sure enough it was Mike first, and his load shot clear up the middle of his chest. He was covered in cum, and Anthony let out that he was going to go blow his load as well. His load mostly covered his hand in cum. They enjoyed the shoot, and were in a joking mood afterward. They slipped cocks, and were excited about collecting their money for doing the shoot. Who knows maybe a threesome will be next?