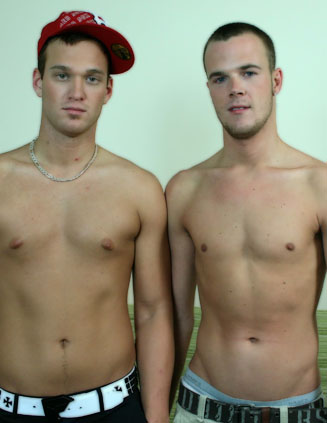 Austin and Dustin came back to do another shoot, and it was very exciting. They knew that they were going to have to fuck, and that meant of course that one of them was going to have to bottom. Both always top, so before the shoot could happen I made sure to tell both of them that someone was going to have to bottom in order for the shoot to take place. I always tease Dustin about one day him bottoming on camera, and Austin admitted that he was hopping Dustin's time was up. Neither one would say he would take it, and Dustin kept telling me to shut the camera off in order to discuss anything further. I started to offer more money to see just watch one would go first in taking a dick. I offered two hundred more, then up to five hundred. Austin let out that he would do it for $2000, and Dustin was still going to get paid the original amount that we decided on for the shoot.

To get started I told them to take off their clothes and we would kick things off with a little dick sucking. Both guys got to their feet, and as more of their bare naked bodies were exposed, Austin was getting nervous. He couldn't believe that he was going to be taking a dick. Making the comment that he had a big dick for a reason, I reminded him that Dustin had a big dick as well. Laughing about the situation, Austin told Dustin to start sucking his dick, and that he got to make all the rules of the shoot. Dustin leaned over tilted his hat to the side, and took the cock in his mouth. Sucking it slowly, and in a smooth motion he was able to get Austin fully hard. It took only a short time, but when I saw Austin's hard on I couldn't believe how big it was. Making him stand up for me, I wanted to get a side profile of it. While he was up, I had him spin around to show his ass. His buns had a little more bubble to them, and that brought me back to remember him first starting with us. I told him that when he started with us, he was just a boy. Now, he was a man, and hotter than ever.

Moving the dick sucking over to Austin's mouth, he gave a blow job for a while to Dustin. Dustin's dick was pretty hard and Austin made the comment that he didn't know if he wanted it to get any bigger. I told him not to worry, that the fucking would happen easier than he was thinking about. Bring up kissing, I asked if they would do it, and Dustin's first response was NO! I asked him if he had a thing about kissing, and he told me that I did. I brought up the fact that he kissed Tyler in another shoot, and he said that I paid him more to do it. Then, without really discussing it, they started giving me numbers to kiss. They agreed to try it, moved their lips closer together they leaned in and allowed it to happen. Both started slow, and then wanted more. Moving their mouths around and keeping it going. They paused after some time, and Dustin wiped his mouth off. I brought up that I wanted to see more passion, and Dustin's responded that we weren't shooting an HBO special.

Taking a moment to get their dicks hard, they both sat on the couch and stroked to some porn. Watching their dicks to see when they were fully hard, I told them to get the couch into a bed, and that we could start the fucking in just a bit. I shut the camera off, to get in another position. Austin asked me if we could start the fucking off camera, just so he could get a little comfortable. They attempted to start on the bed, and I actually left the room for a moment to allow them to work things out together. Hearing my name shouted down the hall, I came running with the camera in hand. Walking into the room they were on the floor in front of the bed, and Austin was riding it. It took him a while to get use to it in his ass. He became better at being able to allow more cock to go in and out of his tight hole. Moving up to the bed, Austin laid on his back and put his legs up in the air. Dustin moved a lot faster after a while, and started to pound Austin pretty hard in fucking him. They were able to go for a while, but Dustin lost his hard on at one point. Pulling out they stayed in their positions to get going again. Putting on a fresh condom, Dustin inserted his dick into Austin's ass one more time for one last good fuck before they came.

Austin yelled out that he was about to cum, he said it again to me to ensure I heard him. I told him to shoot this load. He let out a fuck and sprayed his chest with cum. As he finished up having his orgasm, Dustin pulled out, put some lube on his dick and worked on jerking off. It took him only a minute, before he came. Shooting his load onto Austin's stomach, he was sweaty as hell. Both guys were tired, hot, and ready for a shower. Dustin hopped up and walked right to the shower, after I said we were good. They did a great job, now all that we need is for Dustin to take a dick.