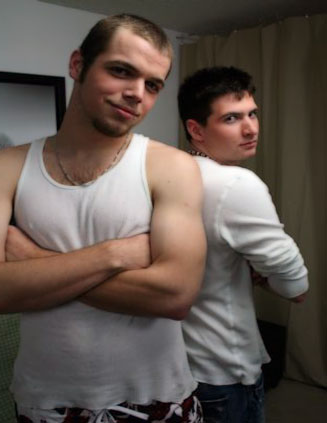 Diesel was supposed to be heading up to Chicago, but he has been staying down in south Florida to make some extra money. He has been staying in a seasonal hotel as he works jobs, and makes money to go back home. As for Mike he has a kid, and needs to make some money to provide some support. Both these guys have girlfriends, and looking to make the money from the shoots to pay for things. Diesel was here a little while ago and fucked a guy before in another shoot. Mike spoke up and said that he would fuck a guy for the money that Diesel had made on the shoot. That is when I said that I did have plans for them to do a shoot together, but really I was thinking that Mike would get fucked in the shoot. Right away he spoke up and said that he didn't really know if he was down for that, Diesel said that he wouldn't do it.

In order to figure out which guy was going to take a dick up the ass they agreed to hand wrestle for it. Right away, Mike lost a lot faster than I thought he would. I told them to try a second time to see if we could have more of a fair match. Mike agreed to try bottoming because he lost, and Diesel said that he would go slowly to start out. Having the guys strip down to get undressed their white bodies was exposed to the camera and they really needed to get out in the sun for some color. Standing there in their underwear, I told them that we should start out with sucking dick. Taking a seat on the couch Mike reached over and started to play with Diesel's cock. He reached inside his underwear to jerk him off, and Diesel returned the favor as well.

Mike started out with giving Diesel a blow job, and he proved to have some skills because his cock grew rock hard in Mike's mouth. He pulled away, pausing for a break, and I had to encourage him to continue. Removing their underwear the boys continued, and Diesel stood in front of mike with his big dick. Mike continued to give him head, and Diesel enjoyed it. I knew that I couldn't allow things to go to slow, and so I stopped them and ordered Mike on his knees. Diesel got a condom on and positioned himself between Mike's legs. Now, with such a big dick I knew that it was going to take some time to adjust and relax. Listening to the sounds and moans that come from Mike, letting us know that he might be enjoying the fucking. Diesel started to pick up some speed and pounded that ass. As he was fucking him, he asked Mike if he liked it, and got the response that it was a big dick.

Never having a cock in his ass, Mike was being a trooper in taking the cock. I had Mike flip over to his back and put his legs up in the air. Diesel grabbed each ankle and continued to fuck. Mike stroked his cock to keep his mind off of the size of the cock. Diesel paused and asked if it was ok if he stopped. I asked if they would continue a little longer, but Mike turned into a wimp. The two of them jerked off with some lube, and I told them to just let me know when they got close. I knew that they were going to blow their loads at any second, but had no idea which one was going to go first. Mike was the first one that came on his chest, and a half a second later Diesel followed by shooting his load on Mike's chest as well. That was just pure luck that they were able to blow their loads together. I was glad that they came in to do the shoot, and they were happy to make the money.