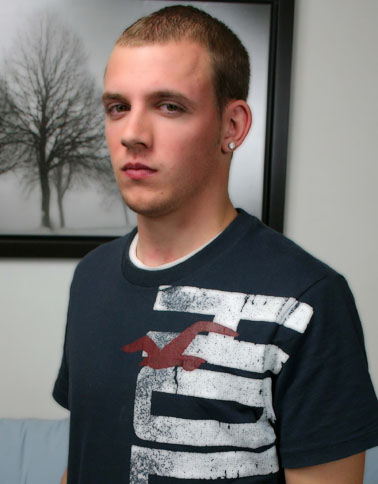 I would like for you to meet CJ, an 18 year old, very broke boy, who is straight and looking to make some money. His work is barely giving him any hours, so his paychecks have been around $80 a week. With that size of a check he isn't able to pull in enough money to pay for school, bills, and partying. This was CJ's first time in front of the camera, and so I knew that he was very nervous. Plus, he was really cute so I paid him a little more than I typically like to for just doing a solo type scene. I explained to him how we ran a solo scene, and then had him start to get undressed for the camera. He explained that he was probably going to put away the money that he was going to make towards his next tuition payment.

Taking off his shirt, I noticed that CJ had very nice, smooth skin, and had some muscle tone in his chest and arms. CJ said that he worked out a couple of times a week. Going for the rest of the clothes, he stripped out of his pants to reveal a pair of shirts on underneath. He explained that he loved to play soccer and that he always needed to be ready to play, so for him layers were never an issue. I asked him if he had any locker room stories that he could tell me about and he said no. Turning around I had him show his ass to the camera so that we could see what it looked like. Lowering his underwear, his bare buns were exposed. Bending forward over the couch, I was trying to get him to show his hole to the camera, but it wasn't going to happen. He took off the shorts, and he was standing there in his underwear. I noticed that he looked to be a little hard, and reached for his waist band. Pulling it down, I got a glimpse of his semi hard cock.

Taking a seat on the couch he faced the tv playing the porn, and stroked his cock. He gripped his dick nice and tight as he stroked it. CJ seemed to be doing a lot better than I thought that he would do, and his underwear came off, and he continued to stroke his cock. He gave great eye contact towards the camera, and really started to put on a show. As he jerked off, his hips would thrust upward into his hand. His body temperature was rising, and his chest was starting to get really red. I knew this to be a sign that he was getting close to blowing his load, because I had seen it in other models as well. I told CJ to go ahead and blow his load when he was ready, and he told me that it had been a couple of days since he last jerked off. Knowing this it got me excited to see just what kind of fireworks show he could put on with his cum.

CJ must have got a good shot of precum on his chest because he looked all over for it, and then gave me a warning that he was about to bust his load. Then, the cum started to flow, and mostly went down the sides of his cock. He did a great job for his first shoot, and was very relaxed after that. I explained to him that I would give him a call as soon as I could get some more work lined up, and look forward to having him back for some more work soon.