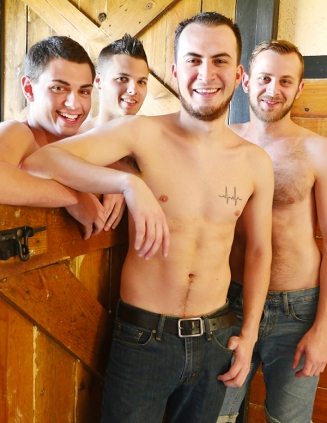 We've got four sexy studs in the studio today, and these guys are ready for a foursome fuckfest, skipping introductions and getting right to the action as they pair off and make out! Chandler Scott and David Hardy go at it, kissing and undressing while Gage Owens and Tyler Griffin do the same, getting each other warmed up before moving in for some oral as Tyler sucks Gage and Chandler gets David's cock down his throat!
When they've gotten each other hard, Chandler and Tyler kneel on the bed and spread their asses open for Gage and David, who slowly slide their pricks inside of those tight asses and fuck them hard and raw! When it's time to flip, David and Gage get their asses eaten out before getting them stuffed with Chandler and Tyler's big dicks, making out in the middle of the bed while their asses get stretched!
When they take a quick break, Chandler ends up getting his ass fingered by the other three guys and then things get a little rough as they tie his hands behind his back and take turns pounding that sweet ass and fucking that mouth! When they're done dominating Chandler's sore hole, they drain their cocks all over him and cover him in cum!