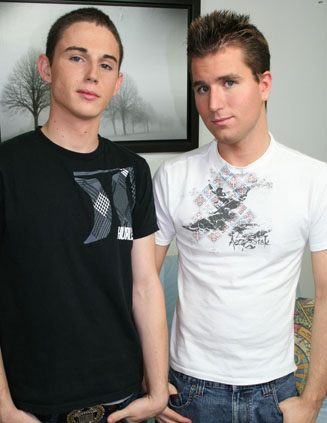 Aiden and Tyler are back for another shoot together like I had hoped and this time they have had this shoot on their minds. When they left here last time I asked them both to think about doing a fucking scene together and that I would pay them a lot more money than I did the last time. They both agreed that they would think about it for a while and see if it was something they would do. Well, the day of the shoot I called them both up and they each said that they would come in. Aiden and Tyler took a seat on the couch and we began talking about what I was looking for. Aiden was the first one to admit that he would do the fucking for the kind of money that we were talking about, but that he just didn't know if he could take it up the ass. Tyler said that it didn't matter and for the money he would do it. From the beginning it sounded like Tyler was going to bottom and Aiden was going to top.

Both boys stood up to stripped their clothes and were standing in front of the camera naked. Aiden said that he was comfortable enough to just go for his underwear as well, and then Tyler just followed along. After they were completely naked, they didn't waste any time in waiting around to see who was going to suck the first dick. Tyler dropped to his knees and placed Aiden's soft cock in his mouth slowly. As he started to suck on it, and get it lubricated with his spit the cock began to get harder. Soon Tyler had a ragging boner in his mouth, and was going to town on it. He would suck it, and lick it to make sure that Aiden was getting turned on. I asked them if they were ready to do some fucking and they both took a seat on the couch.

Aiden ripped open a condom to put on his cock to start the fucking, but his dick went down in size just waiting. He asked Tyler to suck it a little more to get him back hard to put the condom on. Both the guys settled on a Tyler on his back to start with after talking for a little bit. Aiden lubed up his cock and moved in close behind Tyler's ass hole. Pressing the tip against the hole, he was trying to push his way in. This was the first time that Tyler had ever been fucked, so naturally he was going to be nervous and tight. I backed off from being close to them and gave the two of them some space. Once Aiden was able to get inside, Tyler's cock shot up like a rocket in size. They were able to start to move a little faster, and I was able to see that Tyler was enjoying it. The quiet boy who usually just sat there in the shoots was making some noises and had a rock hard cock.

Tyler said that he was getting too close to shooting his load and he warned me to get in close for a shot. As I stepped closer to him, he came right on his chest with several shots of cum that went on his upper chest. Aiden was close, but had to pull out of Tyler's tight ass. On his knees behind Tyler, Aiden positioned himself to get jerked off and not have to do anything but hold himself up. They ended up jerking off for a while, and Tyler's hand got tired and Aiden took over. With him jerking himself off it was only a matter of time before he shot his load. Aiden moved Tyler's hand and then blew his load all over Tyler's chest. Half way through his cum shot, Aiden fell over to the side from the excitement of his release. Both guys did a great job, and I will have to see if now Tyler is a little more comfortable being on camera to match him up with someone else.