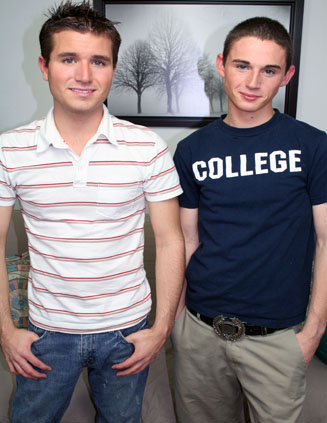 Tyler and Aiden are back again for another shoot like I had hoped for, after they did a jerk off scene together. Neither one seemed bothered by the last scene they did, especially because Aiden had done another shoot that involved oral before anyways. To refresh our memories, I ran into these boys at the car show a couple of weeks ago, and they agreed to do a shoot. The jerk off scene went, so well that I wanted to see them do more together. As we were talking about what I had hoped for them to do in the shoot we were about to do, I knew that Tyler's nerves were starting to get to him. We settled on the amount that I had previously paid Aiden for doing an oral scene, and Tyler didn't debate with me when he heard how much it was.

I had Tyler stand up for me, and take off his shirt for the camera. His long, white, torso was bare for us to see the muscles in his stomach. Knowing that I wanted to try and push the boys a little bit to try new things I asked Aiden to take off Tyler's belt. He was a little hesitant to do it at first, but after that was out I kept him going. Then, I had him take off Tyler's pants. When they hit the floor, Aiden then was asked to start to play with Tyler's cock. He did so lightly at first on the outside of the underwear. Aiden pulled down the pair of briefs that Tyler had on and was playing with the limp cock. It was now time for Tyler to start to undress and play with Aiden. I asked him to touch Aiden, and he started to rub the outside of his pants. Aiden pulled off his shirt, while Tyler took off his pants. Right away, the boner in Tyler's pants caught my eye and I was a little shocked to see that.

In the back of my mind I was wondering if Aiden was turned on by the skinny, young, white boy that he was getting to play with. We were going to get to find out, as Tyler started to slide his fingers below Aiden's waist band on his underwear. They came down and the boner popped out, and we all watched it. Tyler started to touch it softly at first, and then more of a stroking motion took place. Taking a seat on the couch, I told Tyler to start out first in sucking dick. I warned him to start out slow, and not to use any teeth. After just a moment of the blow job, Aiden was very satisfied with how things were going. I made Tyler go on for a while and he didn't really try and take a bunch of breaks or pussy out of it. When I thought that his jaw could use a break, then I made Aiden go ahead and give him head. Now, this became the real challenge, because the oral wasn't getting him turned on right away, and either was the jerking. To top things off the studio phone rang and broke the mood. I stopped everything and let him watch some porn with us leaving the room for a minute.

Returning to the couch, Aiden started to give oral once more to the much harder cock and things started to take off. Tyler was able to mostly stay hard the whole time, and even showed signs that he was enjoying the blow job that Aiden was giving him. The two boys did a 69 position for a little bit, giving them both oral at the same time. Aiden seemed to be a lot closer to having an orgasm, so I asked Tyler to jerk him off. He did so for only a few minutes, before Aiden came right on his stomach. It was a good size load that actually shot right towards the camera. Then, I knew that I wasn't going to get a cum shot if I had Aiden jerking Tyler, so I asked Tyler to just jerk off himself. Aiden couldn't keep his hands off of Tyler and rubbed his legs and play with his nipple. Tyler came with a huge cum shot right on his upper chest, and then the rest just ran down his dick. I am sure that everyone would want to see them take things the rest of the way, so I ask if they would want to come back the following day for another shoot. When I mentioned that they could make some more money, if they did some fucking Aiden asked if we used condoms. I said that we do, and that I had a whole bunch on hand. Both boys said that they would want to think about it and then would get back to me. Stay tuned to see if they return for a good fucking.