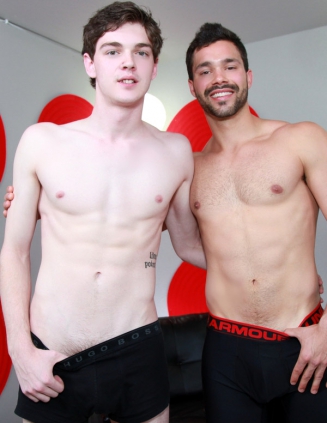 Dimitri is nervous about what it's going to feel like to take a cock up the ass for the first time, but Sergio gives him some good advice and instead of drawing out the suspension for too long, he decides it's best just to get started. Besides…he admitted that he likes a little pain with his pleasure, so that preference will certainly come in handy!
To help him relax, Sergio gives Dimitri head, sucking on that sensitive tip and rubbing Dimitri's huge dick with his hand, getting that cock as deep down his throat as he can before laying back and letting Dimitri give him some sloppy wet oral. But there's no use delaying what's coming, and Dimitri lubes up his ass and spreads it wide for Sergio, who goes in slow and gentle, letting Dimitri's virgin ass warm up to the feeling of having a huge prick inside.
Dimitri seems to be taking that dick pretty well, and Sergio senses that and picks up the pace, fucking him a little faster and deeper. They try a few different positions, giving Dimitri a good feel for what it's like to take a pounding, until finally they both shoot their hot loads all over and Dimitri takes a moment to let his sore ass recover.