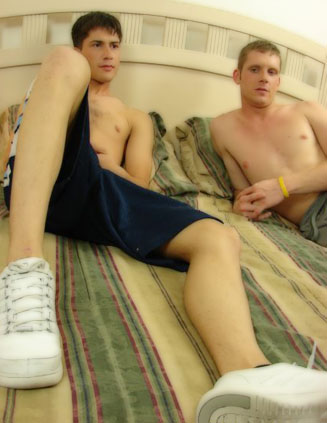 Jacob and Anthony were really hurting for money even with the money that I had already given
them from shoots before. They asked me for more work, and so I had given them some tasks that I
needed done around my house. Mainly all I had was yard work, because down in south Florida I
don't want to be out in the dead heat of summer doing it myself. The two of them had been working
so hard in the heat; I decided to give them a little bit of a break. I found that Jacob was busy
cleaning my pool for a party that I was going to having over the weekend and Anthony was taking all
the trash to the front from out back. Having them come inside, they took a seat on the couch in the
air conditioning.

I asked the two of them if they had thought about the offer that I gave them last time they were on
camera about seeing the two of them fuck. Both said that they thought about it, but really didn't
know how things were going to go. In talking to them about the money and how far the lawn money
was going to take them, Jacob was the first one to say that he would do it. Anthony was more
concerned about who was going to be getting fucked than anything else. I told him that we would
move to the bedroom and there is where we would play the game, "rock, paper, scissors" to see
who was the lucky one to take a dick up the ass. Coming into the room they took a seat on the bed,
and started to play the game. Anthony was the first one to lose the game, so he was nervous about
it.

Taking off their clothes they returned to their positions on the bed. To get things going between the
two of them I asked them if they would do a little dick sucking. Anthony leaned over and took
Jacob's limp dick in his mouth and started to suck on it. Jacob was trying to relax, but was having
some issues getting hard. I think the main problem was that he wanted, Anthony to go faster. In
doing so, he placed his hand on the back of his neck and pressed down at the speed he desired.
BINGO! That was it; we had a rock hard penis ready for action. I was glad to see that we were able
to get him hard, and enjoying the blow job. I asked if they would want to start the fucking, so I
showed them where everything was. Putting on the condom, Jacob got into place ready to fuck the
virgin ass for the first time. Getting into the doggie style position, Jacob added some lube to
Anthony's ass then got in behind him.

Pressing his throbbing cock into Anthony's tight asshole, it was met with great resistance. However,
once inside, Jacob was able to pick up some speed fucking him in the ass. Anthony was trying to just
go with the flow, however when Jacob got too deep that is when he took control of the situation.
Bouncing his body off the bed, he really started to ride the cock. Turning over, they tried to roll over
and keep the cock in but the dick just didn't want to stay in. With Anthony on his back, the two
started the fucking again. Jacob was very good at talking dirty and was making it clear that he was
enjoying the tight asshole that he was getting to pound. Pay close attention, because Anthony says
that he enjoys it, but that it still has some pain that he has to get used to.

The two of them just kept going and watch as they really get into fucking hard. The bed really starts
to shake and make some noise as it banged up against the wall. Talking about cum, Anthony asked
Jacob if he was going to cum on his chest again. Jacob mentioned that he freaked out the last time
he did that. However, it sounded like Anthony was in a different mindset this shoot and I liked it. The
two of them jerked off facing each other, and I was curious as to which one would pop first. This was
the first chance all shoot to see Anthony's monster of a cock, throbbing to shoot a load. His breathing
started to change and that was when I know that he was having his orgasm. The cum came out of
his cock and oozed over his hand as he used it as lube for a second. Notice just how much is on his
hand, as he was catching his breath soon after. Jacob jumped to his knees and busted a load right on
his chest. He was a lot more relaxed about it this time, and the two of them just sat there. In talking
about their experiences here at Broke Straight Boys they commented on how it wasn't that bad, but
the money made all the difference in the world. That was good news to hear that they enjoyed their
time with us, and I know that we will of them as well. Who knows maybe in the future we will have
each one of them back for more work. Until then . . . . . stay tuned for next week.