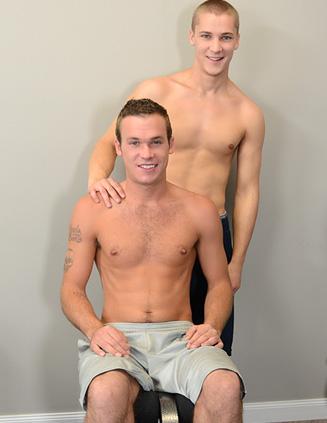 Romeo is doing some bench-press work, but isn't doing it right. Ever helpful Ayden, he with the new haircut (smile) offers some advice. As Ayden shows off the proper technique, Romeo offers some spot help. He's not very successful because he keeps pulling at his dick, but it's OK. No one is hurt.

Ayden notices that Romeo is packing some heavy meat.

"Pretty thick dick, bro," Ayden observes.

"Yeah, man. You like that shit," Romeo asks.

Romeo pulls down his shorts to give his workout partner easier access. He also leans over so he can jerk Ayden's tool. After awhile, the studs put those mouths to work. Sucking and slurping as much as possible.

"How does that taste, bro," Romeo wonders.

"Delicious, bro," Ayden says.

Bro? The "bro" episode! Anyway, they keep up with the pole love. There is a change of positions. Ayden gets on his stomach, on the bench, and keeps up his blow job duties. Don't try this position at your gym! Romeo takes the back of Ayden's head and guides him to where it should be.

"Suck that cock," Romeo commands.

Ayden might not like licking man meat, but he sure knows how to. Deep throats and keeps it all juicy and wet.

Ayden licks a finger and reaches back to his tight hole. As he sucks away, he fingers himself. Those butt cheeks look perfect parted by his finger.

The lads leave the bench and go to the sit-up area. Romeo doesn't do any, but he certainly wraps his sweet lips around Ayden's rod. For a newbie, Romeo blows with precision and verve. Even looks up in Ayden's face.

"Oh, fuck," Ayden groans.

Ayden leans down and spits in Romeo's mouth. Treating his gym whore the way he's supposed to. Romeo's chin is covered with pre-cum and spit. There are effort tears rolling down his face. He's never looked sexier.

"I'm about to cum, bro," Romeo announces.

He does. The load makes his stomach sticky with man goo.

Ayden starts jerking his own meat. Romeo's face is close, but he doesn't look like he wants a facial. LOL! Ayden's initial stream of cum hits Romeo's chest.

Hold on for the outtakes. You'll be mad if you don't!