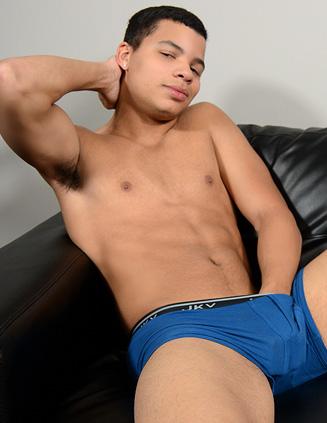 Kaden has a perspective that must be shared with all BSB newbies.

"Play with my dick and get paid for it," the 19-year-old says to the cameraman. "Sounds like the best idea ever."

Hard to argue with that, no? The mixed race stud (he's half black and white) likes to keep active. From hunting to motor cross.

"I'm a country boy," he notes.

He's a single fellow, who gets more than his fair share of tail. Ladies be careful. If Kaden makes a meal, you're going to end up getting a taste of his meat. :-)

As he takes off his clothes, Kaden shows off the moves when giving a woman the sweet, sweet love. Can't you imagine him putting a BSB bottom on his side and filling a mussy up? :-)

Kaden has impressive thighs, but is really into his abs (which are not too shabby). His meat is uncut, another plus. When he starts playing with it, Kaden zones out. He does his best to try to think of a past experience or image. Maybe the stud isn't as comfortable as he seems? :-)

That sausage plumps and Kaden strokes away. He gets on his knees, and it looks like he wants to bust soon. His hand plays with his johnson, keeping attention on the sensitive tip.

We get a view of his bulbous booty. Kaden's finger strokes the outside of his hole. The finger slips in and Kaden gets a little bit more excited. Like he never expected to like butt play. :-)

The bossy cameraman wants the newbie to bust a nut (grin), so Kaden picks up his stroking speed. He tugs at the foreskin and uses a thumb to stroke his head. Those mighty thighs shake and move as he gets close. He licks his lips, grits the teeth, and the first stream hits the top of his abs. The rest makes a gooey mess of his stomach.

Should we see what else Kaden can do?