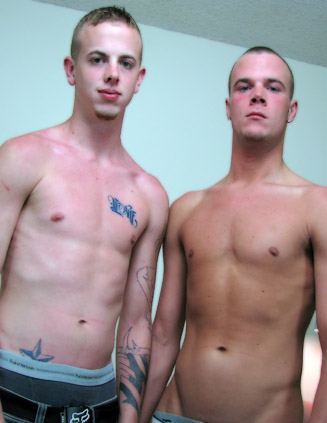 Doing a member's choice shoot with Mike and Austin it was a chance to pair up two really hot guys to work with one another. When I talked to each of them to setup the shoot neither one had any issues in doing the shoot, and so the day of the shoot they both were around the studio way to early. So, I told them to go grab some lunch, and head to the beach for a while until I was ready. Later I learned to watch what I say, they had fun at the beach together checking out girls boobs, and getting some sun. Both of them actually got a little sunburned, but seemed to have fun. I gave Austin shit for saying that he liked boobs, because of him being bi-sexual and liking dick too. When he wants to he scores with girls he does, and he goes from one sex to the other. Mike on the other hand only prefers girls and does the guy thing only in the studio, but I warned him that he keeps coming back that soon he will turn into a dancing queen.

Asking the guys if they knew why they were in the studio, it was to do a shoot that involved anal. The plan was for Austin to bottom, since he has only done it a couple of times, because he mostly tops. Mike on the other hand has bottom once before for us, but he really only prefers to top in shoots. I told him that maybe we would have the two of them come back again later and flip the roles to have Mike play the bottom. To get started the guys stood up and took off their shirts, in the process of doing that Austin knocked out his earring on the floor. Searching over the carpet his ass was in the air, showing his ass crack. Mike gave Austin's butt a good swat, and once Austin put his earring back in we were able to continue. I pointed out that this was as real as it gets with the models and what happens on set. The guys pointed out the sunburns they got at the beach, and Austin was wearing a jock strap for charity. After the shoot we planned on auctioning it off to the highest bidder. Their jeans came off, leaving them in their underwear, while I put on a video for them to watch.

Playing with their dicks, they worked on getting them hard, and I noticed that Mike had his eyes glued to watching Austin stroking. To get them to take the next step, I asked Austin to give mike head to get him fully hard. He leaned to his side and put the straight boy's dick in his mouth and sucked on it. Mike made the comment that he forgot how well Austin could suck cock. One thing Mike has always been good at and that has been talking dirty during sex, and it always seems to get the other models more turned on in the shoot. Austin not just swallowed the cock, but also licked it, kissed it, and made sure to get Mike rock hard. I told Mike that Austin went to the Broke Straight Boys dick sucking academy, and picked up some serious skills there. Mike's dick was ready to do some fucking, but Austin said he wanted his dick sucked first before that could happen.

Austin sat back and made Mike put his mouth to work on getting his dick hard. In no time Mike was able to get the limp cock to turn into a boner. I pointed out that Mike had DSL (Dick Suckable Lips) that did wonders for getting guys hard. Once Austin was turned on and ready to move on, I had the guys get ready to fuck. They changed the couch into a bed, and Austin decided to get on his back first to start. While Mike got a condom on and ready, Austin put his legs up in the air and joked around by putting his fingers in his ass. Before Mike got started he took his two fingers and slowly inserted them inside Austin's tight hole to see if he was relaxed enough to begin. Mike guided his cock in slowly and once he was in most of the way he pulled back until he almost was out. Stopping he caused Austin to moan and pushed his dick back in, working up to a pace that the two of them could handle. With one of Austin's legs up on Mike's shoulder, Mike put his hand on his butt as he fucked to support himself. The two were keeping the moment intense by trying to please the other one. Mike Stroked Austin's dick as fast as he fucked him, and Austin moaned pretty loud as he laid there getting pounded.

Mike was always moving Austin's body around into different positions, sometimes his legs were up, other times there were down. Austin even got rolled over on his side, allowing for some deep penetration. The guys paused and switched to have Austin get in the doggy-style position. Mike pounded his ass with each push in causing those cheeks to bounce. It was hot to when Mike grabbed hold of the jockstrap using it to pull Austin back to him, he even snapped it a couple of times. Both of them were getting close to cumming so they got back to Austin being on his back, so that they could get ready for cum shots. As Mike got started fucking again, it wasn't long of Austin stroking his dick before his shot his load on himself. Mike pulled out and began stroking his cock as fast as he could. When he came his load shot right onto Austin's stomach, thick, and white. Austin had Mike help to take off the jockstrap, and the boys used it to clean up all the cum. The plan was to auction off the underwear for charity, and someone will be the lucky winner of a very dirty jockstrap.