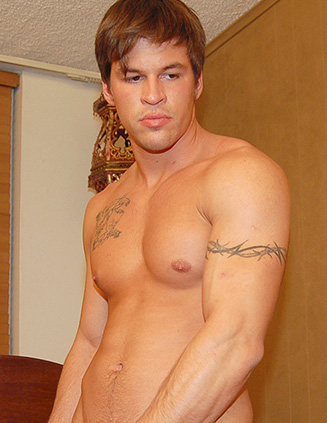 With his boyish charms, and manly muscles, Brody shows up to the studio to talk about how much he loves working out, and training others to get their best bods too. He got into it with a referral from a friend, and his muscles are better than any resume. After showing us the physique of his arms, he takes off his underwear and displays the true showstopper, his amazing, hard cock and ass.
Brodie lounges on the bed and watches the dirty film on the computer while he strokes his muscular dick. His body is like a chiseled statue, laying against the soft pillows and comforter. The smooth balls hang from the base of his erection and enjoy the massage he is giving himself.
Never sexier than this moment, Brodie's cock gets harder as he strokes it slower, and then faster, and then slower again - teasing himself alongside the slut that moans on screen. Moving to his knees, his bush outlines the muscles that motion towards his cock. His chest barely moves in each motion, rock hard and toned.
Getting into his fantasy, Brody stares directly at the computer screen and starts humping the soft comforter as if it's a sweet pussy needing his cock. The sexy man spends as much time focusing on his cock as he does focusing on his muscles, and it pays off just as rewardingly. His cock is erect and ready to burst. Brodie gives it a final stroke and busts his nut with a sign of release.