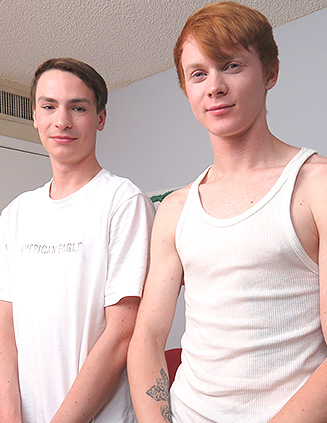 Dallas and Liam are making out, clad in just their briefs, hairless chests against each other. Eagerly, Dallas removes his only article of clothing and Liam's mouth is drawn directly to his cock. He sucks on Dallas's stiff member before Dallas flips and takes Liam's hard cock into his mouth.
In and out his cock slides, Dallas's tongue and lips teasing Liam's tip with a slurping sound. Occasionally, Dallas dips his cock deep into his throat before licking his tip. His tongue flicks at Liam's cock while Liam's fingers tease Dallas's hole. Suddenly, Dallas is positioned with his ass presented to Liam's mouth - in wait to slurp, spit, and make Dallas's ass wet for his cock.
Liam slides his thick dick into Dallas with precision and ease. Almost as if Dallas has bottomed before. Like a straight guy does, Liam begins pumping his hips to feel Dallas's tightness wrap around his cock with friction. He fucks the Snoopy-dawned ass, causing Dallas's face to scrunch in pleasure-pain. Their balls dangle, his back muscles tighten, his cock throbs.
Mounted against the wall, Dallas prepares to take Liam's cock once again. His own is half-erect, anticipating the feeling of fullness as Liam thrusts his hardness into him again. Determined to be a good bottom, despite his internal protests, Dallas takes Liam's cock over and over. Flipped to his back, he receives the massive erection deeper this time, as Liam makes shallow pulses into Dallas's asshole. Dallas's mouth gapes open, moaning escapes from his throat as Liam closes his eyes and both of them squirt hot cream onto each other simultaneously in a way that makes it impossible to distinguish whose cum is who's.