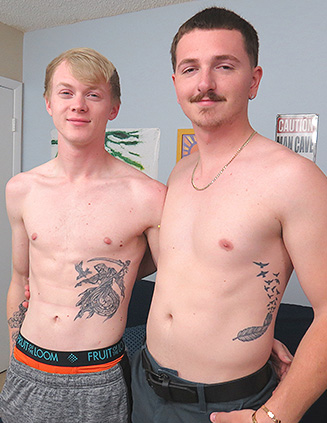 Justin throws his controller down, mad at the video game, while Dallas sits next to him on the couch watching his phone. Before long, Justin notices what Dallas is watching - a dirty porn video. "Stop kink-shaming me and get over here!" Dallas retorts, inviting Justin to calm down and join him. The guys begin commenting on the sexy chick on the tiny screen. Justin begins touching his cock as Dallas pretends not to notice.
The striaght pron gets raunchier, before they decide that it's simply not enough to watch a naked chick give head. The feeling is way more important than the visual - Rock-Paper-Scissors they decide, winner takes all. Justin plays paper and Dallas lands rock. "A deal is a deal," Dallas succeeds, as Justin lowers his pants and readies his hard cock for Dallas's mouth.
"I fucking won. Open your fucking mouth and say 'Ah.'" Justin declares. Dallas does as he's committed. Slowly, unassuredly, Dallas sucks Justin's cock. The straight guy can barely take it. Giving up, he says, "Bro, I'm not even getting anything out of this."
Justin concedes, willing to cut a deal with Dallas - as long as he doesn't say a fucking word to anyone about what is about to happen. Promising that he won't, Dallas removes his pants before Justin reluctantly begins sucking his cock. First, it is flaccid as this straight boy struggles with the reality of who is sucking him off. But harder and harder he gets as the mouth pulls and kneads his man flesh.
The two have complimentary demeanors, Justin forceful and demanding while Dallas is subtle yet intent. For a straight guy, Dallas plays hungry for cock well. "Gonna cash in my chips, bitch. Move over,' Justin demands, playing with Dallas's asshole now.
"Take it slow, dude," Dallas pleads, but dominating Justin doesn't listen. The power struggle plays between them as Justin takes what he wants from Dallas. His tight, straight ass trying to find relieve, pulling away before Justin yanks his hips back towards him every time. The infamous Snoopy tattoo resting on Dallas's right asscheek, witnessing Justin's cock pounding him intensely. Face in pain mixed with pleasure, Dallas isn't quite sure how he feels about being dominated by this masculine foe.
Pounding harder and faster, Justin takes a break before grabbing hold of Dallas's neck and then shutting him up with a hand on his mouth. "Turn the fuck over," he insists yet again and then begins to drive his cock deeper into Dallas. Wrapped like a pretzel, Dallas lays patiently taking cock, honoring his losing commitment, while Justin gets himself ready to take the ultimate prize. He cums onto Dallas's from as Dallas looks away in disgust as what his asshole inspired Justin to do.
Dallas lays holding his cock - his consolation prize is cumming from his own hand. "You can't mention this to anyone, though," he insists. Don't worry, Dallas. Your dirty secrets are safe with us.
PLEASE COMMENT ON THE BOTTOM OF THE PAGE!