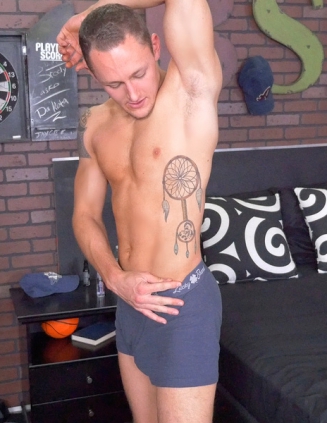 We've got fresh meat here on Broke Straight Boys! Trevor Lastor isn't inexperienced in front of a camera, but he's a newbie to us, and this hottie has been a fan of the site since he was a teen, and now he finally gets to star on it! You can tell he's a natural, and as he strips for us and shows us his tattoos, we get to admire his toned body, chiseled muscles, sexy ass and of course, that big, juicy cock!
He climbs onto the bed and makes himself comfortable, stroking his cock slowly, running his strong hands up and down the full length of his fat cock and closing his eyes as he enjoys himself. As he continues to masturbate and work that cock, we get to appreciate just how big Trevor's dick is as he wraps his hand around that long, thick prick and makes it grow harder and harder.
He makes eye contact, and it's hard to look away from those icy blue eyes…but if that gaze doesn't get you excited, the way he starts to yank on that dick certainly will! He starts to jerk it harder and faster, his muscles tensing as he reaches his peak and shoots his load all over his face, giving himself a facial as he cums hard!