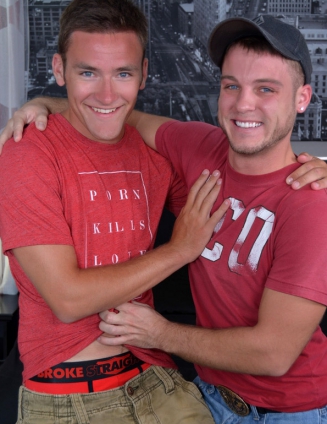 Ian Dempsey and Zeno Kostas are back and sexy as ever! These boys are ready to fuck, and when they strip and make out, you just know this is going to be hot. They kiss, pressing their cocks against each other as and rubbing their dicks together before they 69, Ian sucking on Zeno's big dick while Zeno gives Ian a rimjob, licking and sucking on that tight ass as he buries his face in it.
He fingers Ian's asshole a little, getting him ready for what's coming before they lube up, make out a little more and then get to the good stuff. Ian climbs on top of Zeno and sits that perfect ass right on top of Zeno's hard, throbbing prick. He bounces up and down, taking that cock like an expert as he rides it hard. Zeno gets a little oral action between positions as Ian tastes his own ass on Zeno's cock before standing up and bending over to bottom for Zeno again.
The chemistry between these two is amazing and they are both loving this as Zeno fucks Ian against the wall before laying him down on the bed and pounding that ass from every angle he can, fucking the jiz right out of him. When he's about to cum he spreads Ian's ass open and shoots his load between those perfect cheeks!
* BSB Director Johnny wasn't feeling well, but the boys were already in the BSB house and ready to go. Behind The Scenes director Damian stepped in to save the day. We hope you enjoy Damian's BSB debut as much as we did!