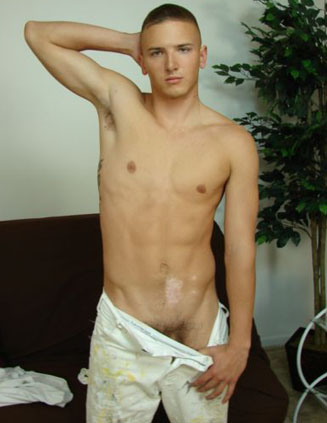 Brian just got fired from his job working for his uncle the day we did the shoot, and he was looking to make some money. He worked for a company that painted big department store buildings. He came across our ad in the newspaper as he was looking for a quick way to make some money for the end of the week. When he showed up at my door for his interview he was still in his work close and was covered in paint. Right away, I noticed that he was a smart ass and that he was going to be an interesting model to work with. Brian had a girlfriend but broke up with her because he felt she couldn't carry on a conversation with him. We joked around about his ex-girlfriend and their relationship.

I told Brian that this was an interview and that I would see how well he would do by himself. If he did well I would have him come back for some more work that would involve other models. Brian stood up and took off his shirt exposing his bare chest to the camera. The first thing that I noticed was that he had a tattoo on his side, and he said that it was a symbol for when he was in the army. Brian served overseas and had the body to show for it. He had some nice upper body muscle tone and a flat stomach. He kept getting undressed as I talked to him, and I noticed that he had some nice pelvic lines that were starting to pop out of the briefs. Undressing he folded his clothes up and placed them on the edge of the couch. Brian took a seat with the lube in his hand and was about to proceed to jerking off, but found it difficult with his briefs on. He stood up to take off the briefs to give us the first glimpse of his limp cock.

Turning around I had Brian show his ass to the camera real quick and his cheeks were smooth, round, and tight. Taking a seat on couch I was able to see his abs tense up and he had a very nice 6 pack going on. On Brian's lower stomach he had a birth mark that stood out, but he was hot so that didn't matter. Brian focused on the porn that was playing and he used the lube to help him get some kind of a motion going. He would jerk his dick off really hard for a few seconds and then would slow down for a few before repeating the process. Brian was working up a sweat and was starting to use all his muscles jerking off. He would let out a few moans and was breathing nice and loud for me to hear on the camera. It was a major turn on to watch him rub his chest and stomach while he stroked his hard cock.

As he was getting closer to having an orgasm he put one leg up on the couch, and this allowed me to get a different angle. I know that I should have moved the camera in a little closer to see if I could have gotten an asshole shot, but that for sure would have made him nervous. He asked me when he could cum, and I told him whenever he wanted. It wasn't a few seconds later that he shot a hot cum load on his stomach. When he came it created a line of cum on his stomach that went in a trail. He moved his dick out of the way for me to get a close look at his load. Brian was tired after that little workout, but he was excited to make some money and bust a nut at the same time. I hope for sure that he will be back for some more work in the future.