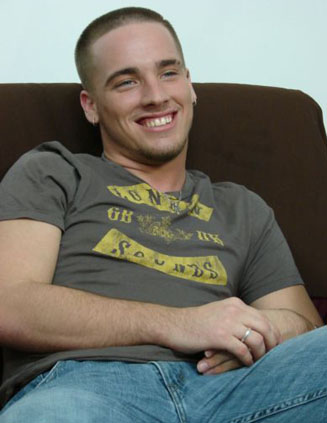 Tony is 22, and bi, and he is here because he found about us through the internet. Jesse was sitting
on the couch next to him, and interrupted when he found out that Tony was bi. Jesse was not happy
that they girls were not here, and I told him that I wanted to finish talking to Tony. I introduced the
two of them to both of each other, and Tony said that he wasn't a fag and I explained that I wanted
them to just fuck. I knew that this was a surprise to both of them, and of course we had to debate on
pay that they were about to make. We finally come to $1500 and when Jesse and Tony agreed to do
the shoot, we were good to start.

I told Jesse that he had to have Tony fuck him, but he didn't want to do that. Instead, Jesse said that
he would fuck Tony instead, and Tony was down because he wanted the money. Both the guys stood
up to get undressed and took no time in peeling off the pieces of clothing. I had Tony lean over first
to do the shoot and that is when took the cock in his mouth. Jesse was kind of impressed and Tony
had said that it had been several years since his last time with a guy. After a few minutes, they
switched and Jesse took Tony's cock in his mouth. This was Jesse's second time ever sucking a dick
and he was doing a good job doing it. I had the oral go back and forth for them to start to get a little
more into the shoot.

Moving on to the fucking both of the guys stood up and made the couch into a bed. Now, the last
time Tony did oral was the last time that he had done anal. Tony was very nervous, and seemed to
keep that way as he got into the doggie style position. Jesse got in behind him, and I had to tell him
to go easy so that he didn't force it in to quickly. Once, Jesse was able to get into Tony's very tight
hole he was able to keep a steady slow motion going. The thing about fucking is that after a short
time, Tony got more relaxed and then the speed cam into play. Jesse had a hold of Tony's waist and
would pull him in harder and deeper to have a better fuck.

Jesse's dick came out and that was the perfect time for them to change position. Tony laid on his
back and that is when he Jesse got back into fucking him. They were able to keep it going for a little
while longer and I could tell that they were getting frustrated with the fucking. I had the two of them
lie on the bed next to each other and just jerk off. The room was really quiet besides the stroking
noises; the two guys were concentrating on what they were doing. Jesse was the first one to cum his
load on his chest and he made it all the way up to the middle of his nipples. His cum load was nice
and thick and a white color. It took Tony a little longer to cum on his lower stomach and it has the
same color as Jesse's. They quickly asked where the money was and I told them to hop in the
shower to clean up and we would get them their money.