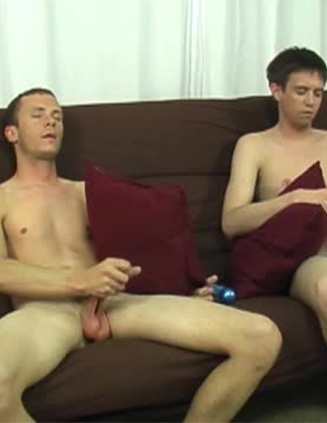 Jacob came back for another shoot and had dumped his girlfriend since he last did his solo shoot with us. Kyle is here sitting next to Jacob and he has broke up with his fiance and has been looking to make some extra money right now. I explained to both of them that I am still trying to decide if we would be able to use them in our upcoming videos. I wanted to watch them just jerk off next to each other and see how they look next to each other. Both guys were a little nervous and had never done jerked off next to another guy before. Jacob started bring up the money and how much they were going to make. We settled on $300 a piece and they started to get undressed.

As they finished getting undressed and sat down on the couch, the two of them placed the pillows from the couch in the center of them. They wanted to have some space between each other. Jacob started to stroke his cock with long steady strokes, while Kyle used a couple different techniques to try and get hard. Jacob kept his eyes closed and he got hard just fine without any problems. I saw the massive cock that he had on him, while his licked his lips to show he was turned on. Kyle on the other hand was having some issues with getting hard. I told them of an idea that I had of Jacob helping him out by sucking his cock. The two of them were pissed off that I brought that idea, but then I started telling them about pay. I told Jacob that I would pay him an extra $100 if he would do it. They argued with me about the pay, but then we walked through everything one step at a time.

Jacob did a quick poke with his fingers at Kyle's dick, but I wanted them to actually touch dicks for a few minutes. I then got him to actually start jerking him off for a few minutes. I told Jacob to lean in and just take the dick in his mouth. He agreed that he would do it, but wanted him to stand in order to do it. Both guys moved to being in front of the couch and Jacob dropped to the floor on his knees to take the limp cock in his mouth. Kyle was making some remarks to Jacob about sucking his cock, and I could tell that they weren't helping Jacob to relax. When he first began to give head he wasn't really sucking Kyle's cock he was just putting his lips on it. At one point he actually started to suck on the cock. He would reach up and stroke him at the same time as giving him head. I could tell that Kyle was getting a little harder, however he was still was having some issues with getting fully hard.

I had Kyle take a seat, and Jacob didn't really care to be sucking anymore penis. I had Kyle reach over and jerk Jacob off for a minute. Kyle was pissed at me for making him touch another guy's cock, but I told him that he needed to earn his money if he wanted to walk out with more. Kyle was able to get Jacob hard with barely touching him. Kyle made me stop the camera for a few minutes and he could no longer go on with the shoot. I explained to him that I didn't know if I was going to be able to use him any more if things didn't change. He told me that he would try and relax more for future shoots. He told me that he had jerked off twice right before the shoot so that is why he was having hard issues. Finally, I got him calmed back down so we could return to the same room with Jacob. I could tell the Jacob was a little pissed that Kyle was causing so many problems. I explained that I would put them in a scene with a girl in the middle of them, and hoped that we could still use them for future shoots.