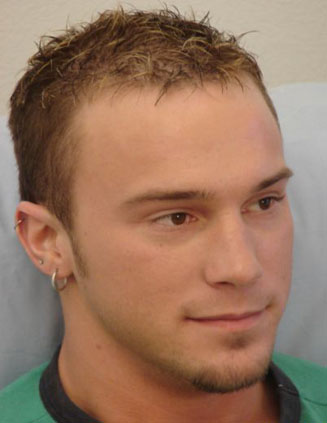 Wes is back for another shoot and the last time he was here he did a scene with Casey Wood and
took Casey's monster of a cock all the way in his ass for the first time. That was the first sexual
experience with a guy that Wes had ever had. I explained that was a big dick (11") and afterward he
felt it the next morning. I had a big favor to ask Wes and I asked him to have sex with two other
broke straight boys. We were going to blind fold the two other guys when they came in so they
thought that they were going to be having sex with a girl, and he was going to have to be fucked by
at least one of them. Not thinking, I told Wes to go hide in the closet and that was a little of an inside
joke of course. Ross and Erik were back to do another shoot and I said that I had a girl for them to
have sex with. She (Wes) was going to start by giving head to each of them and then they would
move on from there. Both guys removed their pants and sat on the couch with their blind folds.

Stroking their cocks both guys started to get turned on and asking lots of questions about the girl. I
then summoned to have Wes come in the room and he got on his knees in front of Ross first. He
started getting into giving the head to him and the room was very quiet at that moment. Then, he
moved over to Erik and started to give him head as well. I noticed that Wes was very careful not to
take a hold of their dicks with his full hand or they would notice his hand size. Wes moved over back
to Ross and was giving him head when Erik lifted his blind fold to see a guy sucking on Ross's dick. At
that point the shoot took a big halt, and the two guys got all pissed off at me for lying to them about
what was going on in the shoot. They wanted a chick, and I asked them to give me some more slack
and they needed the money right now. Erik won't fuck with a condom and Wes wasn't down for that.
Ross was going to fuck him then, and I had Wes take a seat in the middle of them. Both guys started
to undress him and get him naked. Erik was the first one to bind down and give head to Wes, Ross
bent down and started to lick his bills. Then, the two of them started to back and forth giving head to
Wes to get him hard.

Changing the couch into a bed it was great because both guy continued to give him had and for Wes
it was heaven having two guys suck his cock at once. I made the guys trade off giving each other
head and they each were able to have two guys suck their cocks at once. Wes even stopped to ask
about the penis piercing and if it made the sensation a little more enjoyable. They made a circle
sucking each of their cocks and it was hot to watch this group of guys get it on in the room. After a
while I got Wes in between Erik and Ross to get fucked. Ross fucked Wes on his knees while Erik got
his dick sucked. Ross grabbed a hold of Wes's hips and pulled him back onto his hips. I had Wes flip
over on his back and when he did, Ross and Erik started kissing and some light smacking started
going on. Erik sat on Wes's face and Wes made sure to lick his balls and I think he even worked his
way over his crack a couple of time.

The three of them were such in a moment that I didn't want to stop them from going at it for a cum
shot. I even had to stop, and grab another tape for as long as they were going. Ross was so horny
that he wanted to fuck Erik now, and they switched for me. Ross was able to get right to it when
they started to fucking and the beating and hitting started. Wes gave Erik some more lube and I was
getting ready for them to all give me great cum shots I just have to figure out where they were each
going to spray. Ross pulled out and the three of them were there jerking off and Ross was the first
one to cum. He shot his load all over Erik's stomach. Erik then shot his load up his chest and it was a
good size load that they both had. Wes was the last one to go, and all the pressure went on him. Erik
reached his hand up and started to feel his balls. He came on Erik's chest and I heard a whisper,
"that's nice." All the guys gave me a great shoot and I was very happy with the performance they
gave me. Moving into the showers all three guys cleaned up and even helped each other out, which
was a nice way to end the shoot.