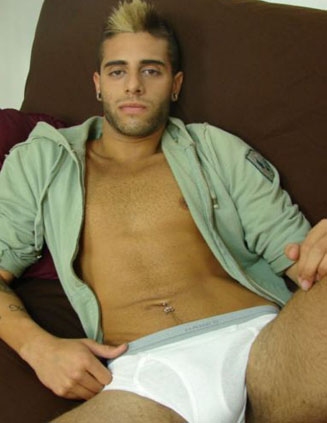 Marco is 21, and a native to Florida. He is straight, broke, and needs some money to fix his car to get a better job than the one he has now. I explained to him that he was going to be doing a test shoot today to see how well he will do in front of the camera before we put him in some more shoots. He has been with his girlfriend now for 3 years, and he said that she was likes it as well. I told him to go ahead and get undressed as I put on a video for him to watch. Unzipping is jacket he told me that he has a 7 and a half inch penis. Right away I was able to see his tan, tone chest to show that he hard been working out and staying in-shape. Marco slid of his pants and took a seat on the couch to watch the video. His hand worked it's way down inside his briefs to start rubbing his cock.

When Marco was hard, the first thing that I noticed was that he had an uncut, huge penis to play with. It also had a natural curve upward, and it looked hot as he stroked his cock. Marco stood up and he took off the briefs to show his ass to the camera. I made him turn around and lean on the couch so that I could get a better view of his whole ass. As he was standing there in front of me I was able to see how he had a lean physical build and a nice tan going on. Marco than took a seat back on the couch, with one leg propped up on the couch. I noticed that he would slide his hand down below his balls and would touch the edge of his asshole.

Jerking off, Marco was very quiet in the shoots and I was very concentrated on the porn that was playing on the TV in front of him. He liked to pull and play with his balls as he would jerk off, and his techniques would change after time. He started to moan very quietly and that is when he shot his load on his lower stomach and hand. Marco sat there and he didn't really say much afterward, but I got a close up of his load size. I hope to have Marco come back in and told him that I would bring the girls in next time. Stay tuned to see just what Marco will have to do next time.