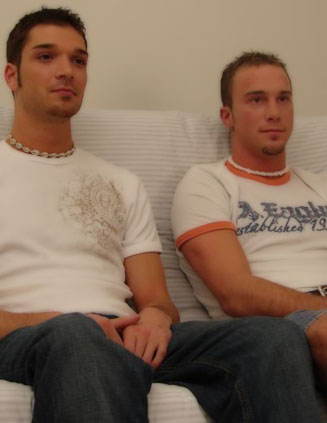 Both Ross and Erik are back for another shoot and Ross was able to buy his school books, and Erik
got his car. So, they in some dire need of more money, and the issue that I had was the fact that
usually I am the one that calls the guys to tell them that I have the girl lined up for them to do the
scene with. But with them wanting in here so quick I had them come in, but I didn't have time to line
up a girl to do a scene with. Now, to change thing up I need something different from each of them.
Both guys put on their serious faces and Erik said that he would do it but he would have to do it
without a condom because he doesn't have sex with condoms he was just tested this week. They
agreed to do the shoot for the money and they said that both had ever been in front of the camera
before they came out to Florida to work with us. Because where they are from adult modeling is not
very well accepted or well liked.

I had both guys get undressed for me and I explained to them that I was just going to stand back
and let them do their own shoot and I was just going to capture it. I also asked them that if we were
going to do this right that I wanted them to kiss in the shoot. They were ready to begin, and they
moved in closer. With their eyes closed both guys started to kiss each other on the lips. Erik was a
little nervous and so he asked if that was enough kissing. I told them that it would be good to start
giving head and that is when I looked down to see that Ross was getting a raging boner. Erik started
to suck on Ross' dick and after a minute or two he jerked him off with his hand and they went back
to kissing. Now, it was getting hot with the two of them making out and the on camera chemistry
was starting. Ross pushed Erik back and started to suck on is dick, and the two of them went back
and forth while they give each other head.

The two of them came to a good pause point and I told them to open up the couch to a bed. Erik
picked up the lube bottle and put some on his dick, and he also put some on Ross's hole. Ross
explained to Erick that he better go really slow to start out. Ross put up his legs up in the air and Erik
started to inch his way in. Once Erik was in he started to jerk Ross off at the same time, and made
the comment that this was better than pussy. The fucking was underway, and Erik grabbed his belt
from his pants. He smacked Ross on the chest with it and said, "pay back's a bitch!" He continued to
smack and hit Ross with the belt off and on in the shoot. The both of them changed up the speed and
were getting into it, and I had them change positions after a while so that I could get a different
angle of them fucking. Laying on their sides, Erik got back in Ross's tight little hole and as they
started up again. Ross asked if it was ok for him to cum, and as soon as I gave the go ahead that is
when he came all over his chest and a nice dot got on his chin.

Erik moved over Ross's dick and Ross started to jerk him off. The two of them began hitting
themselves with the belt or their hand as Ross jerked Erik off. It was really hot to watch the two of
these guys go at it, so I had them go back to fucking bareback. They seemed to be enjoying
themselves and Erik wanted Ross to sit on his dick, but he said no. Instead, Ross sat on Erik's legs
and the two of them jerked off together. Erik blow his load and from the excitement I thought that
Ross would be able to go again, but he said he wasn't going to be able to. They both had one final
smack in before we called it a shoot and they both mentioned that they hit their girlfriends this hard
when fucking as well. This was a great shoot with them again and I was happy to see that they were
back again for some more work. Who knows I might be able to have them come back in again.
Secretly, I think they like doing this, but use the money as the excuse to do it. Next time they want
a girl to do a shoot with, but I will have to see what I can do.