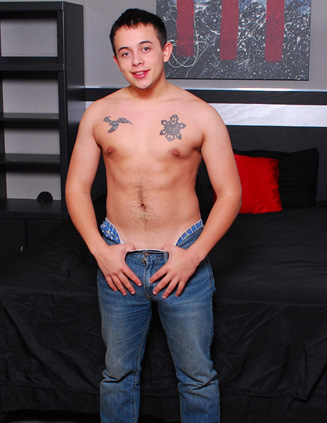 Here in the US it's Presidents Day. A time to honor car buying, if you have a gig. Plus there's lots of talk about some guy, in a wig, married to a Martha (smile). Here at BSB, we spent the day marveling at newbie Flint Harris.

He immediately admits to a case of the nerves.

"This is my first time being recorded doing anything," the 21 year old says to the cameraman.

His first jerking off story is tinged with romance. He apparently started after receiving his first kiss from a childhood sweetheart. Isn't new love grand and beautiful? LOL. He's here because he wants a bigger wallet. Who doesn't? :-)

Clothes are taken off and the hefty cutie sits on the edge of the bed. Let the record state if Flint returns, his tasty looking nipples will require serious nibbling. :-)

He quickly starts jerking, looking in the camera every now and then to see if he's doing it right. His dick gets larger so everything must be OK. The lad gets 20 times more attractive when he bites his lower lip.

Flint is a speed jerker. One tempo only. LOL! When he lies on the bed he cups his balls, and feet fans get a great view of his soles. Flint's jerking speed is rather impressive. Those hands do not tire! When asked to show his hole, there's no hesitation on his part. His butt is so fresh and dainty. It needs to be filled with something. :-)

When its cumming time his legs stretch out and toes curl. Next thing you know, there's an explosion of man milk that lands on his arms, the sheets and pillows. Wait for his smile. It will melt your heart.

Want to see him back? What should he do?