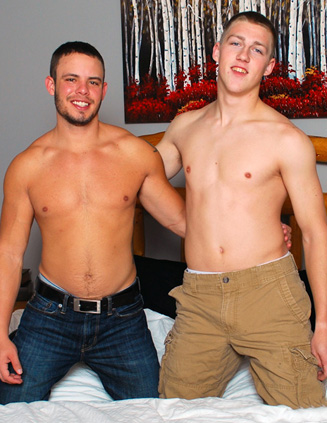 Denver Grand is back for his first scene of 2013. Don't want to speak for the entire BSB team, but hopefully this is just one of many for this year! :-) The same wish applies to Adam Baer, who already has a new year scene under his belt.

There's some talk about wood before the two make out. Denver grabs Adam and places a hard kiss on the blonde boy's lips. Adam returns the passion. All of this smooching must be exciting because when pants are taken off, both are semi-hard. Adam puts meat in his mouth first.

"Oh, fuck yeah," Denver moans.

Adam goes down as far as he can, eyes closed and tongue slurping. He pulls up occasionally so some air can get in his lungs. Denver spews filth as his hot dog gets shiny with spit.

"I think Adam is getting better at this," the cameraman observes.

"I think he is pretty phenomenal, I must say," Denver replies. "Yeah, he really knows how to suck dick."

"I've had some practice," Adam notes.

It's Denver's turn and he opens his mouth wide.

"Oh, shit," Adam whispers.

Denver's slurps echo in the studio. He treats Adam's pole like it's a meat treat, which it is. LOL! Adam's johnson has never been harder or more ready for booty.

It's time for Denver to ride a crank shaft. The boy's get ready, and Adam's banana slips right in into the hole.

"Oh, fuck," Denver whispers.

He rides like a champ, letting Adam's dick pierce those cheeks. Denver's ass has never looked better, filled with cock. As for Adam, he's more than contented to let his little pony ride.

But Adam wants to do some serious fucking, so Denver gets on his back. Adam realigns and reenters. His fucking is long and balls deep. Denver grits his teeth and takes the onslaught. There might be some pain, but his special spot is getting tapped and tagged. The jabs have the desired effect, with Denver's jizz coating his bronze stomach and filling his navel.

Adam pulls out and beats his meat. His face turns red and the first spurt of cum strikes Denver's chest.

"Was that as fun for you as it was for me," Denver wonders, looking into the camera.

Well? Your answer?