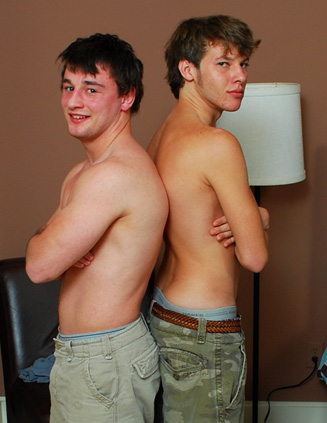 Today's update begins with Scott Harbor and Kodi sitting on the BSB bed. Scott has returned to have a go at giving a man some anal loving.

"This will be my first time," Scott says.

He also insists he's only here for the money and the ladies get his attention. As for his plans with the BSB money, Scott isn't sure. Might buy a few things.

A rant before we continue: when did Kodi turn into BSB's bottom boy? Not that his pert ass doesn't deserve a royal fucking, but in his last few scenes he's only showed the ability to bite the pillow. He needs to top more often, and let's be honest: Scott would squeal with tween delight if told that jock ass was going to be tapped by Kodi! :-) Rant completed.

The lads strip to their undies and get on the bed. They feel up their individual joints. Notice how Scott peeks over at Kodi? Can you blame him?

Scott sucks pole first, and Kodi is immediately in lust.

"I love your mouth," Kodi says. "It feels so fucking good."

Kodi helps Scott lose his briefs, but he makes sure the beefy boy keeps sucking.

"How does that cock taste," Kodi wonders.

"Oh it tastes wonderful," Scott replies.

He deep throats and plays with Kodi's balls. Scott's moans start to fill the studio. Kodi's cute toes stay curled as Scott licks up and down the shaft.

The models switch, with Kodi putting all of Scott's sausage down his throat.

"Oh, fuck yeah," Scott moans.

Kodi is energetic with dick sucking today. Choking and making sure his nose touches pubes.

"Go all the way down on that dick," Scott orders.

Kodi does so. Has anyone seen our Kodi more starved for meat? LOL! Soon enough it's time for Kodi's second hole to be stretched. He's not ready for the experience, and reluctantly gets in the doggie position. Scott puts on a condom and lubes up Kodi's hole. Scott enters in one stroke and Kodi moans from the shock.

"You like that tight fucking ass, don't you," Kodi asks.

What answer would you give? :-)

Scott fucks balls deep, skin smacking against skin.

"Spread those ass cheeks," Scott orders. "Spread those fucking ass cheeks."

The fucking gets more intense. Scott grabs Kodi's arms and pins them behind the bottom's back.

"Smack that fucking ass," Kodi says when Scott gives a cheek a whack.

Can anyone remember Kodi being boned with this much place? He gets on his back and Scott gets back home. Poor Kodi. His hole will not be the same for awhile.

"Oh, shit," Kodi whimpers.

Scott makes sure his partner feels every stroke, going in as deep as possible. All this fucking gets to Kodi and he nuts all over his stomach. Scott doesn't pull out until he's ready to blow. When he does, the juice overfills Kodi's belly button.

Scott, of course, is pleased with his first foray into male tail. Kodi doesn't feel the same way, but who can blame him? His hole will itch for a few weeks!