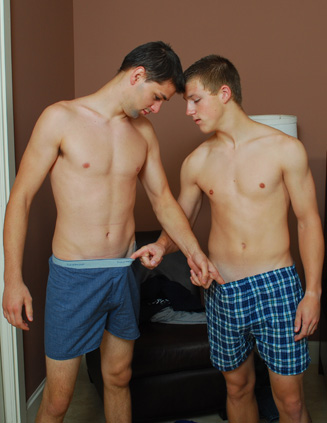 Today's drama has Adam Baer and John Silver. The two are relaxing on the bed as the cameraman notes both have come a long way in the dick sucking department.

"I don't know if I should take that as a compliment or not," says Adam.

John is still waiting for Burger King to call him back. Hopefully the chain loses his number. His horse dick is perfect for our studio. LOL!

The boys strip, and give us a peek of their cute butt cheeks. When they return to the bed, John sucks first. He does ask though, which makes him even cuter. Polite boys are ever hot. Adam is quiet at first, but soon his meat is bloated due to the oral machinations.

John has turned into a first rate aficionado of the meat pole. Slurping the shaft, keeping it wet, licking the head, and deep throating with ease.

Adam has a go at John's impressive dong. The meat stretches the blonde boy's mouth and he can barely get to the middle of the shaft. Like all cute lads, Adam gets sexier when dick fills his sultry mouth.

John's toes are in mid-curl due to all of Adam's work. If John were a gay boy, he would pull Adam up and put a passionate wet one on his lips. We'll probably need to pay John more for that. LOL!

"You like sucking that dick, don't you," John asks.

Adam doesn't answer, but it's hard to talk when your mouth is full!

The two switch to 69, a position allowing mutual pleasure. :-) The studio is filled with heavy breathing and lip smacking. Adam has to breathe through his nose, and John tries to have his nose nuzzle pubic hair.

This one of the few videos where talking is kept to a minimum. Both lads focus on making the other happy. They pull off and stroke their individual johnsons. Adam takes an occasional peek at the dong that danced with his tonsils. Is he wondering how it might feel inside a hole with less lubricant? :-)

John looks over occasionally, but not as much as Adam. The two soon forget each other and focus on the loss of man cream. Adam throws his head back and cum lands on his torso. After he strokes his last bit of juice out, he looks over at John. His jizz spurts out, a bit more plentiful than his scene partner. It covers his pale stomach.

"Hopefully you guys like it," John says after he's calmed down.

Well? Did you?