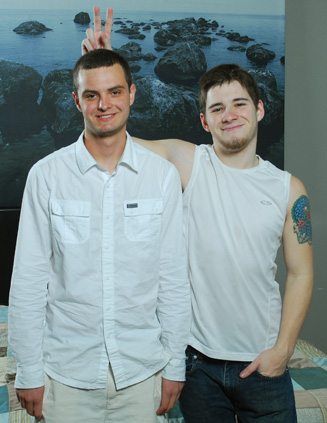 Is there a better way to open 2013 than to have two newbies go at it? Jerek Miles and Joey Conrad are going to break some boundaries today. Joey will "catch" for the first time and Jerek will get a chance to "pitch." :-)

"I'm really nervous," Joey notes.

To be fair that is a bit of an understatement. When asked how he thinks it will feel, the nervous lad gets all apocalyptic.

"Just like this atomic bomb going off in my ass," Joey says. "Really frightening actually."

Jerektried to enter a girl's ass once, but "she ran away screaming." Not what Joey needs to hear. LOL!

"I'm not going anywhere," Joey says.

Jerek unbuttons Joey's shirt. There's some trouble with the pants, but they eventually come off. Jerek takes off his clothes, and the two eventually get on the bed. Joey sucks dick first, and it's easy to tell this is his first time with sausage in his mouth. He immediately chokes.

After some nervous swipes, Joey gets a rhythm going and Jerek's thick meat plumps from all the oral attention. Joey spits on it, and keeps his mouth on the bloated head.

Jerek keeps a hand on the base of his sausage, guiding it into Joey's eager mouth.

"How is it going," the cameraman wonders.

"Pretty good," Jerek replies.

It's time for the main course. Joey gets on his back, but the lad is still a little bit freaked out about having his hole stretched.

"I'm a bit nervous, though," Joey says. "Jerek kind of has a giant cock."

Jerek, like most well hung dudes, just smiles at the compliment. Lube is applied in all the right spots. The moment Jerek's head gets in, Joey bites his bottom lip.

"Oh, fuck," the cherry lost bottom yells.

In fact, Joeyoffers a mantra of "fucks" as Jerek slowly pumps in and out.

"Fuck. My god," he whispers as the pace picks up.

When asked how things are going, Joey says what should be on a BSB t-shirt.

"It feels great, but it hurts like a bitch though."

Jerek is long stroking now. He's been unmindful to whatever groaning comes from his bottom. They decide to give a Joey a chance to ride some. Jerek gives another t-shirt answer when asked how Joey's ass feels.

"Tight. Warm. I guess that is how an asshole should be," Jerek observes.

Joey keeps cursing up a storm, but keeps goes up and down like a pogo stick.

"Fuck me," he whispers.

Joey gets on his hands and knees. Jerek reenters and pumps away; he treats the man hole the way it was made to be used.

"Fucker! Are you drilling for oil," Joey asks. That has to be the first time that question has been asked in our studios. :-)

The ass smacks get louder and the thrusts more brutal. Jerek pulls out and nuts all over that plump rump. His juice coats one cheek and Joey rubs it in like lotion.

Joey doesn't cum, but the smile on his face implies an insatiable bottom boy has been born. What do you think?