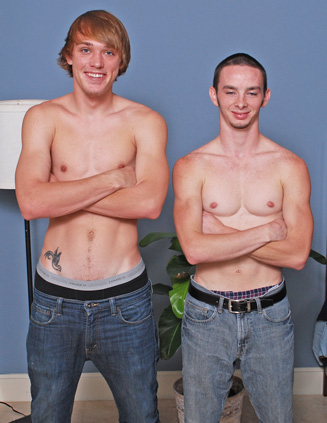 Hey there, BSB peoples. Sorry for the spotty nature of updates in the past week. Our writer didn't have any power due to Sandy. Don't worry. He's fine and the lights are back on in his hovel (grin). However, too many in the New York City area are STILL without power. So please, if you have any cash, donate it to the Red Cross. Thanks!

Now to today's update. Duncan Tyler is paired with Trent Jackson. This will be Trent's first time with a guy. Our diminutive newbie looks like he can be an extra in the "Lord of the Rings." We all know Frodo is nothing but a bitch bottom, LOL! Donkey dicked Duncan is all smiles when asked how he feels about working with a wee-one.

"You will just do whatever for money," the cameraman says.

Duncan gives off that sexy giggle. When Trent is asked how he's feeling, he states the obvious.

"I think you picked someone quite a bit big," Trent notes.

The models strip and Trent has a compact little body. Defined chest. Abs and strong arms. All that work in The Shire has paid off (grin).

The two get on the bed, and jerk themselves. Duncan keeps taking a peek to see what Trent has to offer. He turns all commanding by telling Trent to lose his boxers. Then the sucking begins.

Duncan has transformed into a first rate lover of the pole. Slurping, deep throating, jerking the meat. He even gags a few times. Trent puts his hand on Duncan's head, trying to make the pro go down farther.

Duncan spits all over the dick, and his tool stays diamond hard as he makes his scene partner happy.

Trent takes his turn at lapping. He goes slow, but that technique makes sense considering the size of Duncan's package.

"Fuck," Duncan mutters as Trent's mouth is stretched.

The newbie can't deep throat but pays close attention to the head (always a good idea).Trent does look mighty cute with his mouth filled with beef.

Duncan changes position, lying on his back. Trent's mouth keeps up its oral ministrations. He looks up at Duncan as he slobbers all over the night stick. Trent's perky nipples stand out as slurping sounds echo in the studio.

"Oh, fuck. Watch the teeth," Duncan requests. Teeth marks are always a problem for the well endowed. :-)

Duncan can't take it anymore and jerks himself to a nut (as Trent fondles those balls). Mr. mega-dick's cum reaches the middle of his chest.

And scene! Alas, no man milk from Trent. Should we bring him back to see what else he can do?