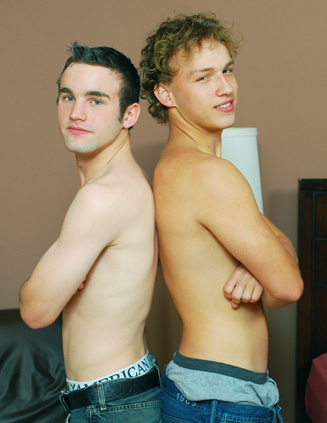 Happy Thanksgiving everyone. We at BSB hope you all get stuffed exactly the way you want! LOL!

Now to today's update: Before the film starts rolling, Trey has his hand all over Carson's piece. No one can really blame the smiling lad. Most of us would be doing the same if we were lucky enough to share Carson's bed. :-)

Trey will show Carson the beauty of a warm mouth. The newbie's dick is stiff when Trey frees it from constricting undies. Trey strokes Carson and soon enough puts his head where it should be.

"He's pretty good," Carson observes.

Ever since his first solo, Trey has turned into a first rate cock sucker. With Carson's dick, he's noisy. Slurping all over the head and shaft.

"He's better than my last girlfriend," Carson says. "She kept using her teeth."

They get rid of their underwear and look at Carson's tool. Standing straight out! Someone's happy.

"Be good," Carson whispers.

Trey is on pole heaven, doing all he can to make his partner happy. Carson reaches over and pumps Trey meat, but Trey doesn't respond. He's got enough joy in his mouth.

Trey deep throats a few times, his neck muscles contracting from the effort. Carson stands up and Trey doesn't miss a stroke, even though his eyes are wet from effort.

"Yeah," Carson moans.

He puts his hand on Trey's shoulder as he's serviced. When asked if his pretty booty has ever been licked, Carson says no. The cameraman says he should try it, and Trey is smiles (again).

"First time for everything I guess," a reluctant Carson says.

He gets on his hands and knees, that glorious backside pointing toward the camera. Trey impales his face between the cheeks, making a meal of that hole.

"Am I being spat on," Carson wonders.

Yes you are, Mr. Sexy. Your hole needs to be juicy and wet.

Carson's booty is supported by a pair of meaty thighs; they need some loving attention. However, Trey is too entranced by that hole, licking and kissing it.

Carson returns to his back and Trey reignites his blow jobbing ways. The curly-topped performer lets Trey do the work. All of this "work" pushes Trey's button and he has a glorious nut (as he's sucking). His cum shoots out and lands near Carson's foot!

Trey continues to gobble down. Carson's face is impassive. It's like he's confused by it all (his sausage certainly knows the score). He takes his tool out of Trey's mouth and jerks himself. Some of the cum glances Trey's face, the rest coats Carson's fingers. Trey puts the lollipop back in his mouth to clean up the left over nectar.

"It was different,"Carson explains when asked how things went. "A lot longer than I expected."

Does that mean a return trip? What do you think?