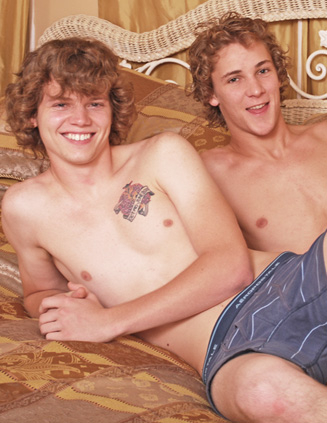 This weekend vid could be called "The Battle of the Curly Tops." Fan favs Ayden Troy and Max Flint are lounging in a bedroom that looks like it was resurrected from a late 1970s porno set. :-)

It's doubtful many of you were paying attention to the decor because the two models are jerking each other. Both are showing wood, and Ayden sucks dick first. He drools all over Max's meat before he puts it in his mouth.

"Oh, yeah," Max purrs as he gets serviced. He plays with his partner's locks and keeps a hand on Ayden's tool.

Ayden doesn't deep throat, but you know he's keeping it juicy as smacking sounds echo in the room.

Max wants to try some pole licking, and Ayden is more than ready to oblige.

"Suck that dick," Ayden commands.

Max does so, with much enthusiasm. He even tongues his partner's balls. Ever since his first appearance with BSB, Max has learned that secret to making a man happy. Alternating between sucking and stroking. Ayden is grooving to it all because his hand never leaves Max's hair.

Max pulls away from Ayden's lap and gets on all fours. Ayden lubes up his fingers and gives Max's booty a good digit workout. Max's face is on the bed and he's all blissed out, pussy wet from the finger action.

Ayden saddles up to Max, and slaps his dick on that hole.

"Want me to fuck it," he asks.

There's no answer at first, but Max eventually answers in the affirmative. As Ayden prepares, Max gets on his side and brings his legs to his chest.

"Fuck," Max whimpers as Ayden slowly enters.

"That's a tight hole," Ayden notes.

Max plays with Ayden's nipple as his hole gets stuffed good. And look at his toes curl when his sweet spot is stroked.

"You like dicks in your ass, don't you," Ayden asks.

Do we really need an answer? :-)

Max turns on his back and Ayden heads back in. Our bottom stares at Ayden as balls slap his ass. Ayden is too much into the fucking to even notice he probably should lean down and plant a a romantic kiss on Max's mouth.

The pace is picked up, and Max plays with his nipple. He moans "fuck" as Ayden spreads those pale legs apart.

"Cum," Ayden demands.

Max looks like he's about to cry, but instead his juice shoots out and lands below his navel. Ayden makes sure to get a few strokes in for good measure.

"Good boy," Ayden says.

It's Ayden's turn to nut, and he pulls out and jerks his sausage for relief.

"Give me that cum," Max says.

Ayden's load blends with Max's, and the top shivers and shakes in post coital excitement. There's silence, laughter, and sighs by both. A good fucking, no?!